You are here
Therapy Dog 'Cody' makes his debut at Portiuncula University Hospital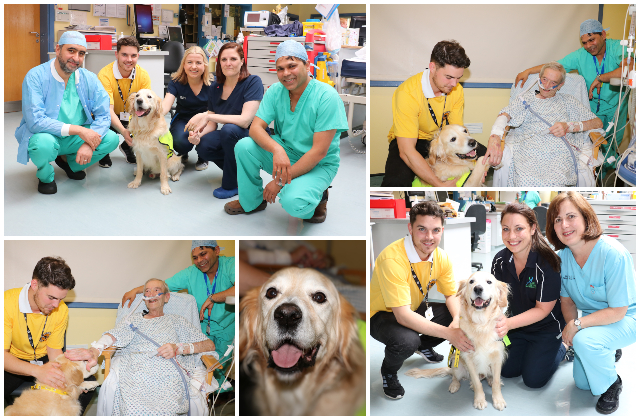 Cody is a 6 year old Golden Retriever who lives a normal life like any other dog…mostly. Once a week, he puts on his Irish Therapy Dog uniform and trots through the door of the ICU in Portiuncula University Hospital (PUH), where his calming and comforting influence is felt in abundance.
Charlotte Carter, Clinical Nurse Manager, ICU explains, "A patient in ICU faces a potentially scary and dread-filled environment. The isolation and loneliness of not being able to interact with their own natural support system, family and friends can have a huge impact on their physical and psychological status. We initiated pet therapy as a non-pharmacological intervention for the mind and body and to create a more humanised environment for ICU patients and their families along with health care professionals.
"Cody made his first visit to the ICU recently to meet patients and staff. He received a warm welcome and of course lapped up all the attention. He is such a welcome visitor, bringing with him so much warmth. This interaction is a powerful thing to witness. You can stand back and simply watch as the positive energy fills the room.
"He will continue to visit the ICU for one hour every Thursday. Already he has brought a sense of healing along with all that unconditional love. Improving the patients' experience and decreasing their suffering is what we desire for our unit," says Charlotte.
Cody's owner and handler Gary Mullin explains, "We found Cody when he was about five weeks old abandoned on the side of the road; from that moment he has continued to bring so much joy into my life and into the life of others. He has such a unique way with people, they just gravitate towards him. I felt there was an opportunity to share the impact that Cody has on me with more people through becoming a volunteer of the Irish Therapy Dogs who have been having a fantastic impact throughout Ireland for many years. We applied and were delighted to make it through the application process. We then became registered volunteers with Irish Therapy Dogs. Portiuncula University Hospital wanted to take part in the programme and so reached out to The Irish Therapy Dogs. Myself and Cody are so lucky to be the chosen visiting team for Portiuncula University Hospital."
Every Thursday after a thorough brushing and grooming, Cody puts on his uniform and heads off to the hospital. He is warmly greeted by all the staff and by the time he reaches ICU he has already made a number of new friends. Once on the ward, like anyone else who visits PUH, he knows that hygiene is essential and clean paws are a priority.  After a busy day he heads home for a well-earned rest and perhaps a little treat or two.
"The whole atmosphere in a room changes when a volunteer walks in with a dog", says Brenda Rickard, CEO of Irish Therapy Dogs. "And it's the dog that does it. If you think about it, dogs are probably the best therapists in the world because people feel they can be themselves. A dog doesn't judge you and just rubbing a dog or looking at one relaxes people. Problems don't go away but people forget them for a while. We've had some amazing reactions.  People with Alzheimer's remembering the names of the dogs, the time of the visit, people who don't usually connect with other patients coming out of their rooms. We always knew that dogs had a huge impact on our wellbeing but now scientific research supports the theory and this is something our volunteers see every day."
Cody is the highlight in the week for so many patients who look forward to his company. PJ Connor from County Roscommon got to spend some time with Cody during his time in ICU and said,  "It's a good idea to have interaction with an animal, you feel the better for it. It brings you to a happy place and it is a happier place to be in."
See highlights from Cody's visit to the ICU at https://www.youtube.com/watch?v=RaOOBvlx_58
The article above is specific to the following Saolta hospitals::
Portiuncula University Hospital (PUH)