You are here
Saolta Programme Management Office
Introduction 
Welcome to the Saolta Programme Management Office (Saolta PMO) webpage. 
We hope that you will find this a useful resource that will both inform you of the Saolta PMO scope of work, and provide a valuable repository to support you in both project management and change management. 
As a small and enthusiastic team within Saolta, we are focused on ensuring a programmatic and structured approach to service development and change management; this approach has been shown to support sustainable and tangible change in improving services for patients and staff. 
Our approach is based on evidenced best practice from both national and international experiences that we can apply locally across the Saolta Group Hospitals and other partners in the delivery of care to patients across the West and North West Region. 
In supporting innovation and change management, we are committed to developing Saolta and our Hospitals to embrace change and improvement as core to service delivery on a continuous basis.  A key enabler therefore is to further develop change management expertise across Saolta, and this webpage is part of a wider plan to achieve this during 2022 and beyond.  We hope you will find the website useful and if you require any further details, please contact us on pmo.saolta@hse.ie.
Jo
Portfolio Lead
Saolta PMO
"If you always do what you've always done, you'll always get what you've always got"-  Anonymous
Saolta PMO – Background and Context
The Saolta Group Programme Management Office (PMO) was established in March 2017 under the National Programme for Health Service Improvement.  The objective is to support the development of better more joined-up health services that the patient can access safely, quickly and as close to their home as possible.
Since the publication of Sláintecare, PMOs are tasked with supporting a programmatic approach to the roll-out of national Sláintecare initiatives and programmes; such as the Sláintecare Integration Fund Projects, Enhanced Community Services Programme, and local service development and priority projects. 
The Saolta University Health Care Group Programme Management Office is led by Jo Shortt (Portfolio Manager) and the Programme Sponsor is Dr Pat Nash (Chief Clinical Director).
On a more detailed basis, the Saolta PMO:
Works closely with the National Change and Innovation Team in providing a structured approach in change management and improvement initiatives based on the national Change Guide.
Is committed to developing project management and change management expertise across individual hospitals and the wider Saolta organisation
Ensures a programmatic approach to change is used to prepare and support individuals to successfully adopt change in order to drive organisation's success and outcomes.
Is focused on the application of knowledge, skills, tools and techniques to meet project requirements and deliver the necessary outputs.
Is focused on Innovative approaches in service redesign and development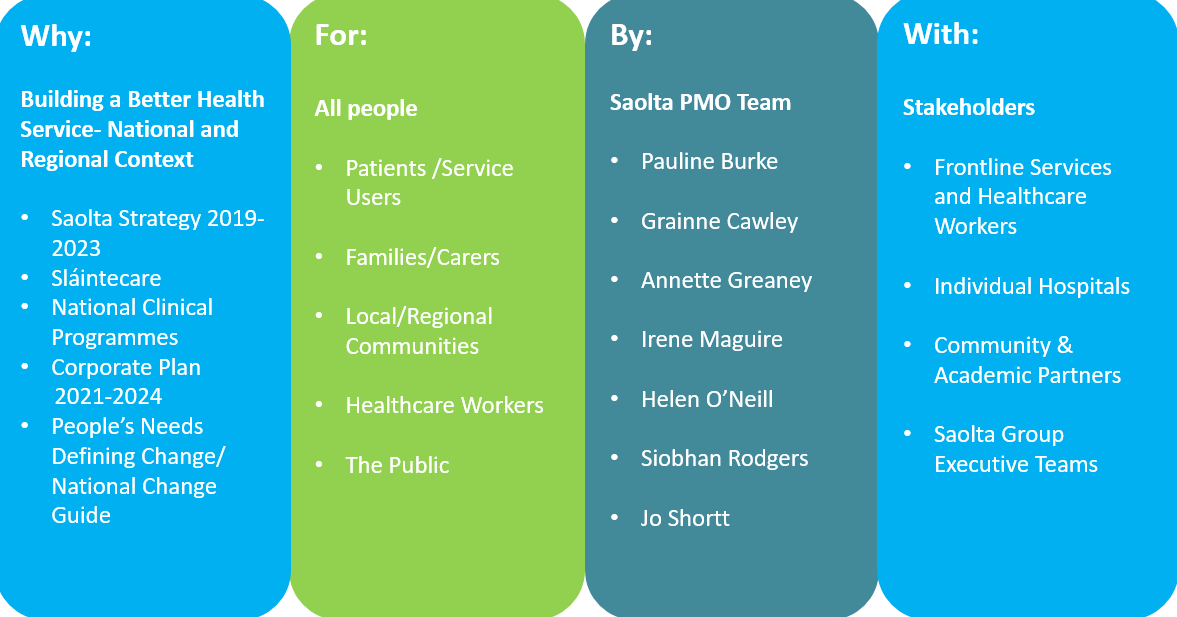 Role of a Project Manager
Programme and Project Management from Initiation to Close Out
Deliver support for Project Management and Change Management
Project Reporting to Local and National Steering Groups, and Key Stakeholders
Project Risk, Issue and Dependency Management
Project Governance
Oversight of Budget and Resourcing needs
Leadership and Development
Communications
Stakeholder Management
Strategic Vision
Compliance to Standards, Policies, Procedures & Legislation
Develop Key Performance Indicators (KPIs)
The Saolta PMO Role in Projects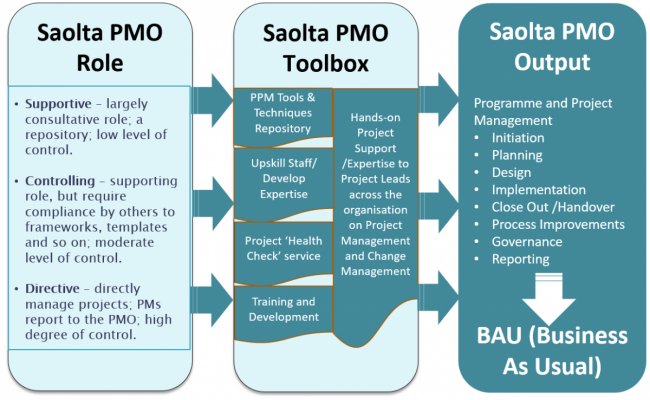 Change Management and Innovation
Development of Change Management Expertise within Saolta   

This is a Key Priority for the Saolta PMO
Saolta PMO linking with National Change and Innovation regarding education on a tiered basis (aligned to HSE Change Guide)
Saolta PMO to provide support and guidance on implementing a  programmatic approach within the organisation
Targeting Project Leads and Change Champions
Useful Signposts
Training and Development
The Saolta PMO Team will work with individuals and teams in relation to:
Using PMO Methodologies
Implementing the Change Guide
Continuous Process Improvement
Facilitating Group Workshops linked to projects
Utilising best practice templates
Signposting resources for additional reference
Best Practice Management Templates available from the PMO:
Project Charter
Project Initiation Document (PID)
Benefits Management
Progress Reports
Risk, Actions, Issues, Decisions (RAID) Log
Lessons Learned Log
Key Performance Indicators and Benchmarks
PMO Glossary of Terms
Additional Resources:
PMO Contact Details
Email: PMO.Saolta@hse.ie
Tel: 091-893739
Programme Management Office, Unit 12, Fiontarlann Teo, Enterprise Center, Western Enterprise Park, Bothar Le Cheile, Galway, H91 D265