You are here
'T H R I V E' an exhibition by artist Tory Irvine at UHG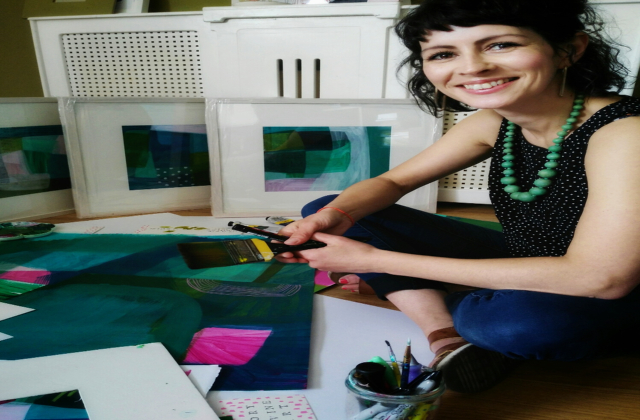 'T H R I V E' by artist Tory Irvine, a contemporary abstract exhibition will launch on the Arts Corridor of University Hospital Galway at 6 pm on Thursday June 7th and will run until Sunday July 1st. Irvine is an abstract artist interested in emotional health. The exhibition features a series of paintings, which are vibrant, expressive & colourful. Working with acrylics on paper, Irvine layers washes and blocks of colour with a spontaneous energy. 
Inspired by the process of creating, Irvine comments that 'my work is intrinsically linked to my own self-care and wellbeing. The result is a body of work that, while portraying a unique perspective, is relatable and relevant to modern life. My hope is that my original paintings have a positive and uplifting effect on the onlooker. Art has the power to encourage reflection and promote emotional health which is a critical component of thriving communities'.
Galway University Hospitals Arts Trusts supports the healing process and enhances the well-being of patients, staff and visitors in University Hospital Galway and Merlin Park University Hospital through the integration of the arts into these health care environments. The work of the trust is founded on the belief that access to the arts promotes positive health. One of the objectives is to increase levels of access and participation in the arts, thus enriching the hospital community and making art more accessible to a wide variety of people.  Involvement with the arts can have a lasting and transforming effect on many aspects of people's lives. The arts can act as a tool by which we engage with the world, view ourselves and provoke thought. 
'T H R I V E' by artist Tory Irvine is presented by Galway University Hospitals Arts Trust. For information regarding the arts programme, phone 091-544979 or email guhartstrust@hse.ie
Photo Caption
Pictured abstract artist Tory Irvine.
The article above is specific to the following Saolta hospitals::
University Hospital Galway (UHG)