You are here
Step challenge 2018 at Sligo University Hospital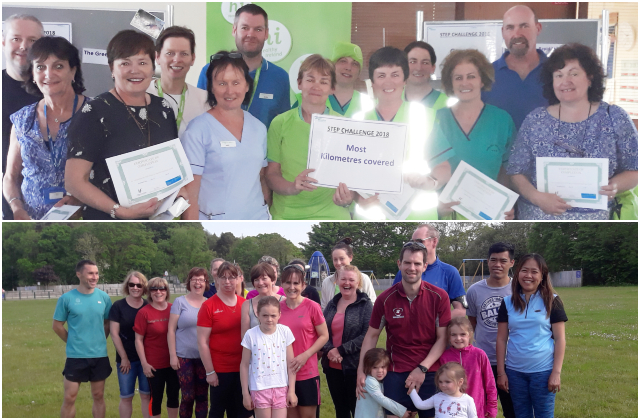 Sligo University hospital registered for the Smarter Travel Step to Health challenge which commenced on 23rd of April and concluded 27th of May 2018. The steps to health challenge was a 5 week step challenge which required participants to record their daily step counts using a pedometer. Participants were given a pedometer and record card to enable them to record their daily step counts. Participants were required to record their daily step counts 7 days a week for 5 weeks. The primary goal of the step to health challenge was to increase physical activity levels among staff members in particular those who may be less active in order to improve their health and wellbeing.
The challenge also included a leaderboard of the top three teams each week which motivated participants to try and compete with other departments and try to achieve their place on the leaderboard. This added a fun and enjoyable element to the challenge. Sixteen teams from different departments in the hospital enrolled with a team captain assigned to each area. Their role was to motivate their teams through texts messages to increasing their weekly step count.
Overall a total of 247 participants took part in the challenge. The total number of steps accumulated during the step challenge was 72010406 steps. This is the equivalent of 54553 km which is more than a trip around the world in 35 days. On the last day of the Step Challenge participants were invited to participate in the local Park Run. Many participants took part in the first Sligo University Hospital Park Run with some of the staff partaking in their first run. The physiotherapy department staff supported their colleagues throughout the run.
On conclusion of the Step Challenge & park run a prize giving ceremony was held inviting all the teams to attend. Prizes were given for "Greatest team effort & Step Count", "Most motivational team leader", "Most km covered", "Most consistent team", "Most steps in 5 days by an individuals", and "Most creative team name". Healthy Ireland gift packs, pedometers and vouchers were given out to winners and participants who attended the prize giving also received Healthy Ireland packs. Participants enjoyed the social aspect of closing the Step Challenge and the overall consensus was that the step challenge really motivated them to introduce more activity into their daily routines. All agreed that they would participate in future step challenges.. The formal evaluation of the challenge through Survey Monkey is currently taking place.
The article above is specific to the following Saolta hospitals::
Sligo University Hospital (SUH)