You are here
Saolta University Health Care Group publishes Group Strategy 2019-2023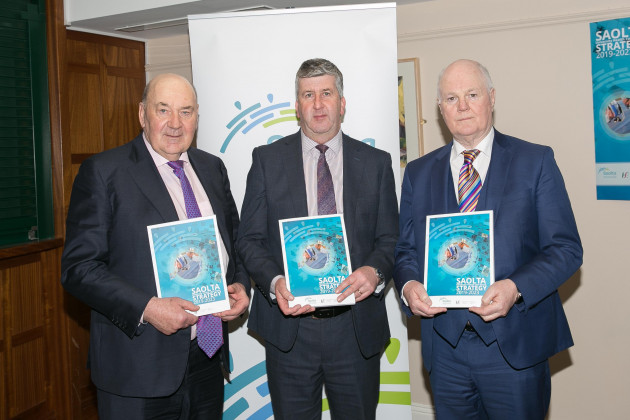 The Saolta University Health Care Group has this week published its five year strategy which outlines the vision and framework for the Group's strategic development from 2019 to 2023. The Saolta Group comprises Galway University Hospitals (University Hospital Galway and Merlin Park University Hospital), Letterkenny University Hospital, Sligo University Hospital, Mayo University Hospital, Portiuncula University Hospital and Roscommon University Hospital.
Commenting Saolta Group CEO Maurice Power said, "The vision of the Saolta Group is to be a leading academic Hospital Group providing excellent integrated patient-centred care delivered by skilled caring staff. In the implementation of this strategy, we are committed to ensuring that our patients are at the centre of all service design, development and delivery. Over the next five years we will further develop our services, both clinical and organisational based around seven key themes: Quality and Patient Safety; Patient Access; Governance and Integration; Skilled Caring Staff; Education Research and Innovation; eHealth and Infrastructure.  These will be our key areas of focus between now and 2023 to enable us to meet the future needs of our patients.
"As part of the implementation of this strategy we have identified 20 priority projects across the Group which are aligned with Sláintecare's goals. They include a number of clinical and organisational projects which are focused on further improving services for our patients and staff. This strategy is underpinned by 41 individual speciality strategies that set out the future requirements for each speciality across Saolta Hospitals. We work very closely with our colleagues in the community both Community Healthcare West and Community Health Organisation 1 in the North West. This collaborative approach will continue in earnest as we work towards delivering more streamlined care to our patients in line with the national focus of bringing services closer to patients. 
"A dynamic research, innovation and education culture is critical to the Saolta Group and through continued working with our academic partner NUI Galway and others we will continue to build our research and innovation capabilities which enable our patients to access new treatments and technologies".
Saolta Chief Clinical Director Prof Pat Nash added, "A key theme within this strategy and its successful implementation is the development of Managed Clinical and Academic Networks.  While the tertiary referral centre for the Group is University Hospital Galway, it is essential that all our hospitals work more closely together in delivering services to address the challenges facing us across our region.   These networks will ensure that specialities in individual hospitals will no longer work in isolation but as a networked team which will improve clinical quality and patient safety. It will also support collective learning/sharing of expertise and will be supported by education, training, research and audit programmes. This new structure will result in safer, standardised and more sustainable services for our patients and improved recruitment and retention of staff.
"The other key focus of this strategy is improving access for our patients and reducing waiting times for scheduled and unscheduled care. We must aim for a fully integrated patient pathway from the first point of contact with the GP, to timely access to local hospitals and onward to UHG as the tertiary referral centre, if required. Maximising capacity across all of our hospitals is a key part of this".
The Chair of the Board of the Saolta Group Gerry McManus stated, "The Saolta Group provides hospital care to over 800,000 people across the West and North West of Ireland which is 1/5 of the population but across 1/3 of the country's landmass. The Board has been very much involved in the development of this strategy, particularly through the Board's Strategy sub-committee. We are determined both at Board and Executive level to ensure that this this strategy will be implemented. While it is ambitious, we have identified the initial priority projects to be progressed in achieving the strategic objectives over the next three years. This roadmap will be reviewed on an on-going basis over the life of this strategy to ensure it is aligned to national and local developments. This process will be overseen by the Board Strategy sub-committee".
Concluding CEO Maurice Power said, "A huge amount of work was involved in the development of this strategy involving every speciality and hospital within the Saolta Group.  In particular, I would like to acknowledge the support provided by the HSE's Public Health team who worked closely with us to undertake an extensive analysis of the current and future population trends, health projections and ultimately develop a health profile for our region. This work was critical in assisting us plan our health services for the coming years particularly in the areas of patient flow, chronic disease management, services for older people and children.
"I would like to thank all of our staff both clinical and non-clinical for their contribution to the strategy and I know that they are committed to its implementation over the coming years to provide the highest possible standard of care to our patients".
Photo Caption:
John Killeen, former Chairman of the Saolta Board; Maurice Power, CEO, Saolta University Health Care Group; and Gerry McManus, Chairman, Saolta Board. 
The article above is specific to the following Saolta hospitals::