You are here
Portiuncula University Hospital awarded Gold Happy Heart Award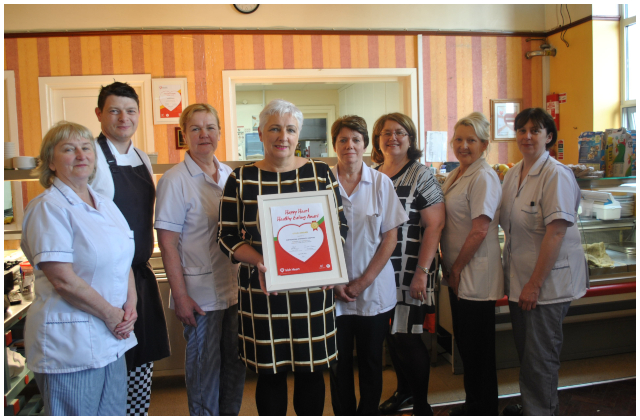 The Irish Heart Foundation has awarded the Gold Happy Heart Award to Portiuncula University Hospital for a third year running in recognition of the ongoing work at the hospital to promote healthy eating in the workplace.
Patricia O'Donoghue, Catering Manager at the hospital explains, "We were absolutely delighted when we received the Gold Happy Heart award again this year. There are strict criteria set out for us to follow in order to be able to apply for the award and our catering department was assessed by an independent dietician. The assessment look at the overall food choice, counter layout, food preparation practices, portion sizes and measures taken to reduce fat, sugar and salt and increase fibre fruit and vegetables. Our aim is to enable staff make healthier choices and recognise the benefits of healthy eating.
"We use fresh produce and cook it to maximise flavour. We do not add sauces to the dishes but serve them on the side so the flavours of the freshly cooked food can speak for themselves. We also provide a daily salad bar to expand the healthy options for staff.
"The award is not about calories or dieting but rather raising the awareness of good healthy food to promote long term good health and a happier and healthier workforce."
Photo Caption:
The Catering Department staff at Portiuncula University Hospital who were awarded the Irish Heart Foundation Gold Happy Heart Award for promoting healthy eating in the workplace, from left: Hanoria Riddle, Chef; Jack Kelly, Head Chef; Helen Glynn, Chef; Patricia O'Donoghue, Catering Manager; Josie McGrath, Catering Assistant; Marita Fogarty, Director of Nursing; Anna Mannion, Catering Assistant; and Karen Ward, Chef.
The article above is specific to the following Saolta hospitals::
Portiuncula University Hospital (PUH)