You are here
Portiuncula Heart Failure Integrated Care Project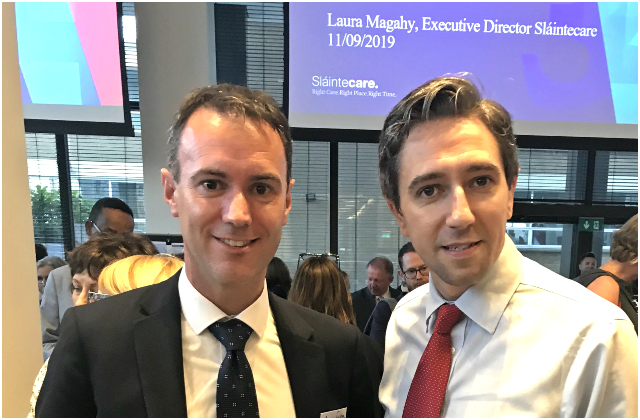 The Heart Failure Service provided by Portiuncula University Hospital and Galway Primary Care is one of the successful projects to benefit from the €20m Sláintecare Integration Fund announced by Minister for Health, Simon Harris TD this week.
The expanded Heart Failure Service will build on the joint services currently being delivered by Portiuncula University Hospital (PUH) and Galway Primary Care, in line with the Sláintecare goals of moving care to the community, reducing waiting lists and improving experiences for patients.
The enhanced service will support the early diagnosis of heart failure by providing new clinics in Primary Care Centres where patients can access echocardiograms within 2 weeks of referral; new weekly heart failure virtual clinics to enable GPs to discuss cases with the consultant cardiologist; and improved access to cardiology and heart failure expertise from advanced nurse practitioners and clinical nurse specialists in the community and in the hospital for GPs to help them triage and manage the care of patients with new diagnoses of heart failure.
Dr Aidan Flynn, Consultant Cardiologist and project lead at PUH said, "We are delighted to secure €330k in funding from the Sláintecare Integration Fund to further develop this service. Heart failure is the most common reason for older people to need a hospital stay and these patients often require a lengthy stay in hospital. 
"When GPs are able to refer their patients for echocardiograms and BNP tests (which help to evaluate cardiac function) in Primary Care Centres close to their patients' homes, they are able to reduce the number of patients who need to be referred to the hospital to see a consultant for diagnosis. 
"Our vision is to enable the right care to be delivered in the right place at the right time for patients with heart failure. We want to be able to provide the same level of hospital clinic care in the community, with follow up in the hospital as required for any patients whose condition changes."
James Keane, General Manager, Portiuncula University Hospital added, "Over 2,600 people in the catchment area of the hospital have a diagnosis of heart failure and an additional 5,000 people are asymptomatic and at risk of developing heart failure. Currently the majority of these patients have to be seen in the hospital to get a diagnosis and follow up care. The proposed Heart Failure Service will integrate the care from the hospital with the care from the community and this will mean faster diagnosis and a better experience for patients by providing services closer to their home."
Seamus Beirne, General Manager, Galway Primary Care commented, "We are excited at the opportunity to expand the work of the Community Heart Failure Management Programme which has been working with University Hospital Galway and Portiuncula University Hospital for over ten years."
Caption:
Dr Aidan Flynn, Consultant Cardiologist at Portiuncula University Hospital with Minister for Health, Simon Harris TD at the announcement of the Sláintecare Integration Fund allocation which included funding of €330k for a community Heart Failure Service delivered by Portiuncula University Hospital and Galway Primary Care.
The article above is specific to the following Saolta hospitals::
Portiuncula University Hospital (PUH)