You are here
'Blackrock at sunset' on display in UHG as part of an Arts Trust initiative for all Saolta staff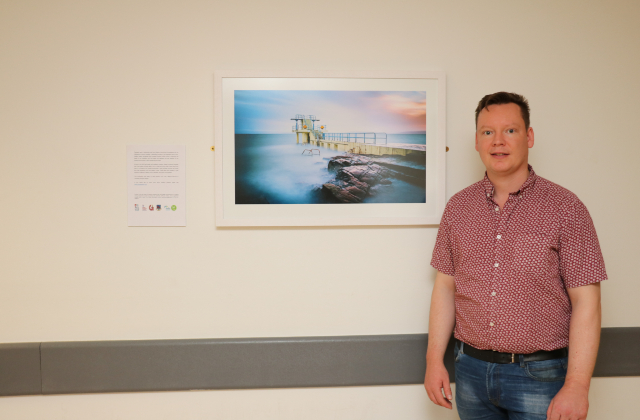 'Blackrock at sunset' by Clint Coen is on display in University Hospital Galway (UHG) as part of 'Passages' a hospital staff arts initiative by the Galway University Hospitals Arts Trust which introduced art workshops and art installations to the seven hospitals within the Saolta University Health Care Group.
The image taken by Clint, who works in the Medical Records Department at UHG, demonstrates long exposure (60 seconds), capturing the imagination and a moment in time while out for a walk. The framed photograph is located on the corridor wall directly ahead on exiting the lift of the radiotherapy department
The staff arts initiative is also being supported by Healthy Ireland, which recognises that health and wellbeing are affected by the physical environment in which people work. Galway University Hospitals Arts Trust invited all Saolta staff to go for a walk and bring a little of what they found back in to enhance the hospital environment.
Margaret Flannery, Arts Director, Saolta University Health Care Group said, "Staff submitted pictures and words from their wandering mind and walking routes. We then installed these pieces in quiet spaces for reflection, waiting rooms, stairwells, and public thoroughfares around the hospitals."
"Given the success of the initiative in the past, I am delighted to announce that the art workshops for staff will recommence this autumn. From October artists will support staff members across the Saolta Group in honing their creative abilities and learning new techniques during group art workshops."
Photo Caption:
Clint Coen and his photograph on display on the corridor of the Radiotherapy Department.
The article above is specific to the following Saolta hospitals::
University Hospital Galway (UHG)