You are here
World Diabetes Day 14 November 2016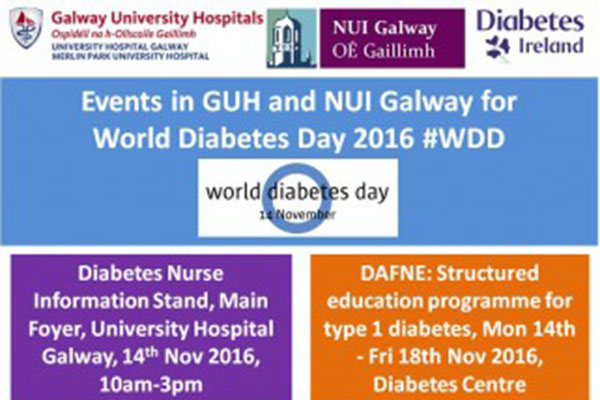 World Diabetes Day Information Stand
Diabetes Nurse Specialists will host a public information stand in the Main Foyer, University Hospital Galway on 14th November from 10am-3pm
10:00am-12:00pm: Marguerite Melia and Caroline Delargy
12:00pm-14:00pm:  Helen Burke and Aoife Ryan
14:00pm-15:00pm: Aideen Moore and Lisa Reddington
DAFNE programme for Type 1 Diabetes
Áine Cunningham, Diabetes Nurse Specialist and Mairead Smith, Senior Diabetes Dietitian will deliver a type 1 diabetes structured education programme called the Dose Adjustment for Normal Easting/ DAFNE from Mon-Fri, 14th-18th November 2016 in the Conference Room, Endocrinology and Diabetes Centre, University Hospital Galway.
Type 2 Diabetes Patient Education Evening
Healthy Eating and Active Living for Type 2 Diabetes on World Diabetes Day, Croí House, 14th November, 6-9pm. Presentations will be from our Diabetes Consultant, Physiotherapist, Clinical Psychologist and Dietitian. Diabetic RetinaScreen, Diabetes Ireland, Diabetes Nurse Specialists (Lena Griffin, Aoife Ryan, Ruth O'Malley, Áine Cunningham and Marie Gately) and Diabetes Podiatrists will host information stands on the evening too.
Public and Patient Involvement – Involving Young Adults with Type 1 Diabetes in Health Services Research
Mary Clare O'Hara, Project Manager and Researcher on the Health Research Board-funded D1 now Type 1 Diabetes Young Adult Study and Ciara Keighron, member of the D1 now Young Adult Panel have written a blog to be published on World Diabetes Day on NUI Galway Health Psychology website about experiences of public and patient involvement in health services research from both the perspective of the researcher and the patient, please see https://nuighealthpsychology.wordpress.com/who-we-are/
For more information, please contact MaryClare.OHara@hse.ie or Helen.Burke@hse.ie
The article above is specific to the following Saolta hospitals::
Merlin Park University Hospital (MPUH)
University Hospital Galway (UHG)