You are here
Upgraded Paediatric Inpatient Rooms at Sligo University Hospital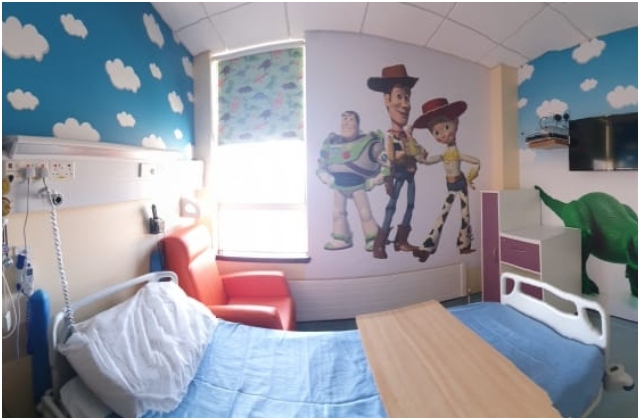 Sligo University Hospital has recently upgraded three paediatric inpatient rooms following generous funding from a number of national and local charities and individual donations. The rooms now have profiling beds, Smart TVs with DVD players, hundreds of child-friendly movies, colourful wall murals, cardiac monitors, child friendly wardrobes, PlayStations and a Nintendo Switch.
Orla Mc Donagh, Clinical Nurse Manager on the Paediatric Ward was involved in co-ordinating the project. She said, "In 2019 the Childhood Cancer Foundation Ireland approached the ward and asked what they could do to help the children attending the ward as part of their Shared Care Journey.  In collaboration with the Paediatric team it was decided to update a room where children came for their treatment on a weekly basis and where they would spend long periods of time when they became unwell.
"Our local Sligo Hospital Oncology Unit Trust (SHOUT) quickly came on board for a second room. In addition, Amanda and Pat Cawley organised a Gala Ball in September 2019 and with proceeds from this event and funds from the Friends of Sligo University Hospital, we were able to upgrade a third room.
"The difference these three rooms have already made to the children and their families is unbelievable. I would like to say a huge thank you to the Childhood Cancer Foundation Ireland, SHOUT, the Cawley Family, Friends of Sligo University Hospital and to all those who supported and continue to support these charities."
Aoife Molloy, Medical Social Worker at the hospital added, "The uniquely designed, child-friendly rooms provide comfort, stimulation and entertainment for our young patients. The artwork on the walls offers a welcome distraction and makes the environment appear less scary and clinical. The TV, PlayStation and wide variety of games available help to keep the child entertained during what can often be long days during their admission. In addition we have a 'buddy bed' in each room to provide the child's parent with a place to rest or sleep without having to leave their child's bedside."
The article above is specific to the following Saolta hospitals::
Sligo University Hospital (SUH)