You are here
Update in relation to the Review of the Gynaecology Service (with a particular focus on post-menopausal bleeding pathways) at Letterkenny University Hospital - August 2020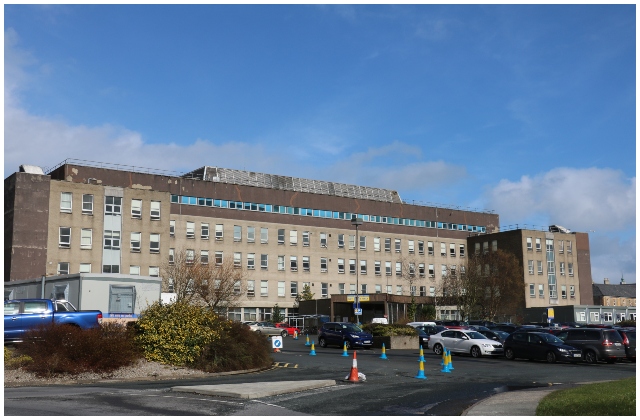 The Saolta University Health Care Group has now made the independent Review of the Gynaecology Service (with a particular focus on post-menopausal bleeding pathways) at Letterkenny University Hospital (LUH) available to patients or families of patients where delays were identified in the provision of their care.
The review was undertaken by a Clinical Service Review Team led by Dr John Price, Consultant Obstetrician / Gynaecologist and supported by a Director of Midwifery and Nursing and a HSE Quality and Patient Safety specialist – all of whom are external to the Saolta Group.
The review was commissioned in November 2019 by Dr Pat Nash Saolta Group Chief Clinical Director, following concerns identified regarding patient care which related to delays in diagnosing cancer of the endometrium. These concerns were either brought to the hospital's attention directly by a number of patients or their families or identified through Letterkenny University Hospital's own processes for monitoring patient quality and safety. Dr Price and his team considered the findings of reviews of the care provided to eight women; relevant pathways for women who present at LUH with post-menopausal bleeding; and how governance for quality and safety for the gynaecology service is delivered. In his report Dr Price identifies areas of good practice, identifies areas for improvement and makes recommendations to implement those improvements.
In addition to Dr Price's wider service review, the Saolta Group and LUH examined all cases of endometrial cancer diagnosed at the hospital over the last 10 years and identified women who waited longer than 100 days for their cancer to be diagnosed. Over this period of time there have been many thousands of attendances to the gynaecological service at LUH.
In total, including those eight cases Dr Price considered as part of his review, it was identified that 38 women waited longer than 100 days for their diagnosis or treatment. The Saolta Group / LUH has undertaken reviews of each of these cases and written to these women or their families. Over the last week, Saolta and LUH clinical staff have met with many of these women and their families to outline delays identified and any potential impact of those delays. Where women or their families chose not to meet with the clinical teams, they have been provided with their report and the Group and hospital remain available to meet them. In addition, each woman or family has been provided with a copy of Dr Price's review report.
Commenting Tony Canavan, CEO of the Saolta University Health Care Group said, "I want to assure the community in Donegal that the team in the gynaecology department in LUH, with the full support of the hospital and Saolta Group management team are working very hard to improve the service provided at the hospital. The delays in accessing the gynaecology service experienced by some women with post-menopausal bleeding in LUH in the past are unacceptable and on behalf of both the Saolta Group and the hospital,  I want to apologise to any woman or family impacted in any way by these delays."
Dr Pat Nash, Saolta Group Chief Clinical Director said, "I commissioned this independent review of the service to determine the quality and safety of the gynaecological service at Letterkenny University Hospital and make recommendations to us so we can improve the service for the women attending the hospital. I want to assure the community in Donegal that we are committed to providing a safe and sustainable gynaecological cancer service and we have already begun implementing the recommendations in Dr Price's review report. A Special Measures Team, comprising an external Consultant Obstetrician / Gynaecologist and Senior Manager from the Saolta Group have been on site in LUH since early July to support and oversee the implementation plan to address the recommendations in this report. This will ensure that clear pathways and processes are in place in LUH to ensure that all women presenting with possible endometrial cancer are seen, investigated and managed in a timely way to ensure the best outcome for them. In addition, we will be ensuring that a robust process is in place involving continuous audit and review of performance data which will provide assurance that all women are being managed safely within the appropriate timeframes.
"The hospital has restructured its processes for triaging patients and assigning appointments, additional staff have been approved and the recruitment process has commenced, an additional gynaecology clinic is taking place weekly, and work has begun on commissioning an additional dedicated maternity theatre."
Professor John Morrison, Consultant Obstetrician and Gynaecologist and Clinical Director for Women's and Children's services across the Saolta Group added, "We are committed to putting the necessary measures in place in the gynaecology service in Letterkenny University Hospital to enable women in Donegal access necessary treatment within the appropriate timeframes.  While many women have had very positive experiences and have been successfully treated by the team at the hospital who are highly trained and committed healthcare professionals – some women experienced unacceptable delays. Over the last year, we have been working very closely with our colleagues in the gynaecology service in LUH to support them to put the necessary measures in place to improve this service. We have now formally established an Implementation Team to drive the implementation of all of the recommendations and we hope that we can have input from some of the women whose care we reviewed into the implementation process."
Seán Murphy, Manager at Letterkenny University Hospital added, "On behalf of LUH, I would like to apologise to women where the care provided to them fell short of the standards that they should expect. Over the last two weeks, we have contacted each of the patients or families where women with a diagnosis of endometrial cancer waited longer than 100 days for their diagnosis and treatment. We have offered to meet each of these women or their families and to date we have met many of them and provided them with a copy of the clinical review relevant to their own care. We have also provided them with a copy of Dr Price's wider clinical review and we have committed to updating them on the improvements that we are continuing to put in place in the gynaecology service.
"The gynaecology team is fully committed to implementing the recommendations in this independent review and work has already begun on many of these recommendations. We will continue to work hard to make sure that we provide the safest possible gynaecological service to the women of Donegal."
The Review Report is available here
Note:
Telephone number for women who may have questions or concerns in relation to this service: 074 9123696.
The article above is specific to the following Saolta hospitals::
Letterkenny University Hospital (LUH)