You are here
University Hospital Galway welcomes Galway Senior Camogie Players to launch the staff flu vaccine campaign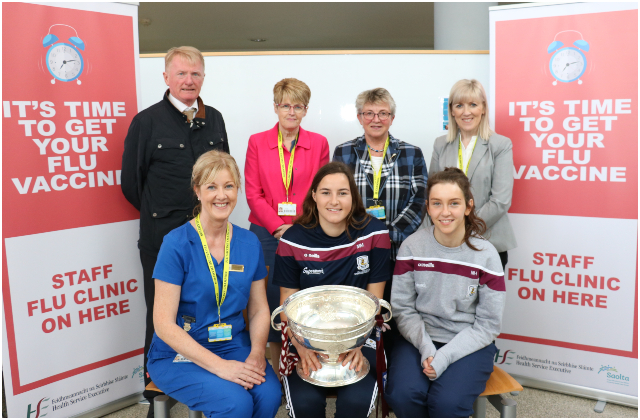 Players from the All Ireland winning Camogie Team and the Chairperson of Galway Camogie visited University Hospital Galway yesterday (Monday 07 October) to launch the staff flu vaccine campaign.
Ms Chris Kane, General Manager, Galway University Hospitals welcomed the players to the hospital and thanked them for helping to highlight the importance of the flu vaccine for all staff working in the hospital. She said, "We are urging all staff to get their flu vaccine as early as possible so that they are ready to fight the flu. Getting the flu vaccine early can help stop the spread of the virus and protect staff members, their families and their patients.
"The flu virus strains that circulate change from year to year so everyone working in the hospital here and in Merlin Park University Hospital needs to get a new vaccine every year.
"This year's seasonal flu vaccine gives broader protection against flu than the vaccine used in previous years, because it protects against four of the common flu virus strains expected to be circulating this year based on advice from the World Health Organization. The flu vaccine used in previous seasons protected against three strains of the flu virus.
"We will be providing staff flu vaccine clinics on both hospital sites and we have trained staff as peer vaccinators who go directly to wards and departments to provide the vaccine to their colleagues. We want to make it as easy as possible for staff to get the vaccine and to fit in with their daily schedule.
"It was fantastic to have two of the All Ireland winning team in the hospital today with the O'Duffy Cup. We really appreciate that they took time to visit us particularly given the other demands on their time."
For the third consecutive year, the Saolta University Health Care Group has partnered with UNICEF to 'Get a vaccine, give a vaccine'. For every flu vaccine given to staff in any of the Saolta hospitals, including University Hospital Galway and Merlin Park University Hospital, 10 polio vaccines will be donated to UNICEF.
In addition to staff working in hospitals and other healthcare workers, the following groups of at-risk people should be vaccinated against seasonal influenza:
Everyone aged 65 years and over
Pregnant women
Anyone over six months of age with a long term illness requiring regular medical follow-up such as chronic lung disease, chronic heart disease, diabetes, cancer or those with lower immunity due to disease or treatment
Residents of nursing homes and other long stay facilities
People who have physical or intellectual disabilities, as indicated
Carers of people in medical at-risk categories
People in regular contact with pigs, poultry or water fowl.
The HSE provides the flu vaccine free of charge for all those in the at-risk groups. The vaccine and consultation are free for those with a Medical Card or GP Visit Card. Those without a Medical Card or GP Visit Card will be charged a consultation fee.
Photo Caption:
At the launch of the staff flu vaccine campaign for Galway University Hospitals (GUH), standing from left: Gerry Hennelly, Chairperson, Galway Camogie; Jean Kelly, Saolta Chief Director of Nursing and Midwifery; Geraldine Murray, Director of Nursing, GUH; and Chris Kane, General Manager, GUH. Seated from left: Siobhan Keane, Peer Vaccinator with Molly Mannion and Niamh Horan, All Ireland Camogie Winners.
The article above is specific to the following Saolta hospitals::
University Hospital Galway (UHG)