You are here
University Hospital Galway celebrated the 10th anniversary of its Volunteer Meet and Greet Service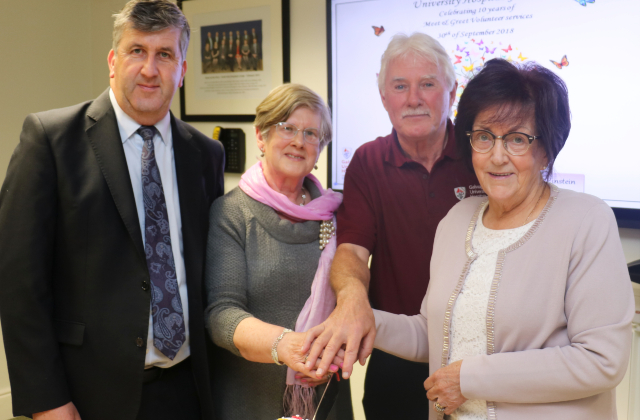 University Hospital Galway recently celebrated the 10th anniversary of its Volunteer Meet and Greet Service. The event was marked by a gathering of volunteers past and present in UHG.
Commenting Chris Kane, Hospital Manager, Galway University Hospitals said, "We were delighted to have had the opportunity to recognise and celebrate our wonderful Volunteers. This service was first established in 2008 and since then has provided an invaluable support to patients and families attending our hospital. For many people, coming to hospital can be a worrying or unnerving time; however the support and assistance of the volunteer team has a really positive impact on the patient's experience".
Maurice Power, CEO of the Saolta University Health Care Group added, "Our Volunteers are an integral part of our hospital and are recognised by staff and patients as being an invaluable resource. We have had nothing but positive feedback on the important role our Volunteers play in the patient's journey".
Phil Whyte, Volunteer Co-ordinator for UHG noted, "There are currently 35 Volunteers in place in UHG and they provide support to patients across the hospital. They are located in the main foyer where they direct and guide patients to the various departments provide assistance to frail, elderly patients when they are dropped off - particularly if a relative has to park their car. The Volunteers visit patients and if required take them to mass or get them a newspaper for example. They also act as a liaison between theatre staff and relatives by relaying updates on a patient's progress in theatre or recovery. The Volunteer team also source toiletry items for patients admitted as an emergency and offer support to them, particularly if they are alone. We thank all of those who volunteered as part of this programme over the last ten years and look forward to its on-going development".
Phil Grealish, Volunteer from Mervue, Galway said, "We find that what we do is very helpful to people coming into the hospital , as a lot of people don't know where the various Departments or Wards are.  They can be stressed and nervous but we are very good chatters and try and put them at ease. We find out where they want to go and on the way we chat about the weather or whatever they want to talk about.  They are always very grateful and they say they couldn't have managed without us." I get such a good feel factor from helping others".
If you are interested in becoming a Volunteer at UHG please contact Phil Whyte: phil.whyte@hse.ie for further information.
Photo Caption:
Maurice Power; CEO, Saolta University Health Care Group and UHG Volunteers Ann O'Toole, Cyril Foye, Phil Grealish.
The article above is specific to the following Saolta hospitals::
University Hospital Galway (UHG)