You are here
University Hospital Galway's participation in Special Olympics World Games in Abu Dhabi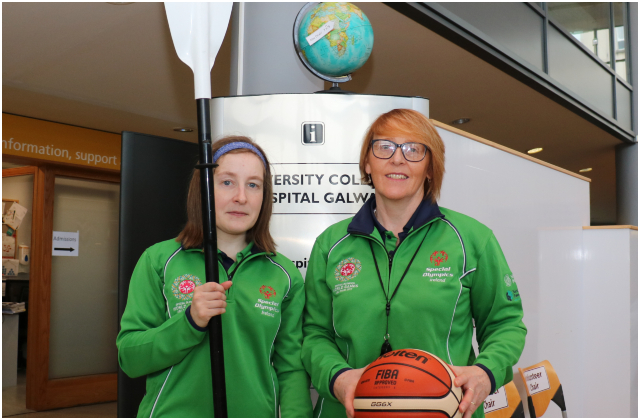 The 2019 Special Olympics World Summer Games takes place in Abu Dhabi next month with two staff working at University Hospital Galway participating in the Games.
Gina Naughton, who is the Radiology Systems Manager, is the Head Coach for the Irish Ladies Basketball Team and Michelle O'Keane, who works for Aramark in the Café in UHG, will be representing Ireland in the Kayaking event.
Michelle and Gina will join a total of 91 athletes and 38 coaches/management representing Team Ireland in the first ever Games to take place in the Middle East North Africa Region.
Gina, from Shantalla and now living on Newcastle Road, has been involved in basketball all her life and describes her involvement with Special Olympics. She says, "I played basketball at school, club and at National League level. In recent years I got involved in refereeing and coaching and last year I was asked to coach the Connacht Basketball Team. We got through to the finals of the National Games in June and won the gold medal and that was the start of the journey to the World Games.
"I was delighted to be appointed the Ladies Basketball Head Coach for the World Games this year. We have a fantastic team of 10 players with two from Connaught, seven from Ulster and one player from Leinster. There are also two Assistant Coaches, Evelyn Bohan, Galway and Dorothy Kavanagh, Limerick. Our training and preparations are coming along really well and we are looking forward to competing with athletes from around the world next month.
"Being a volunteer with Special Olympics is an amazing experience. It is great to be involved with such a dedicated group of athletes who are so determined to give it their all. Organising a trip to the Olympics is a mammoth task for Special Olympics Ireland and all the volunteers. I am very grateful to all the support I have received, especially from my colleagues who are arranging a coffee morning fundraiser for the Connaught Branch of Special Olympics at the end of the month."
Michelle, from Knocknacarra, who is also a competitive swimmer with several gold medals, took up kayaking 5 years ago and has participated in three Special Olympics Ireland Games, competing twice in swimming events and once in kayaking.
This will be Michelle's first World Games and an opportunity she is looking forward to. She says, "We have been working towards this for a long time, some of us have been waiting for this moment since we started with Special Olympics.
"The team got together for the first time back in October and we have had many training sessions since then; we have gotten to know each other and our coaches and learn more about our sports and how to train for a World Games. Some of the guys on the team have been to a World Games before but a lot of us are new to the International stage and it's a bit scary. We promise to do our very best in Abu Dhabi and ask that you continue to support us and follow us on the journey; hopefully there will be lots to celebrate along the way."
Photo Caption
Michelle O'Keane and Gina Naughton who both work in UHG will be part of Team Ireland at Special Olympics World Games in Abu Dhabi next month. Michelle will be representing Ireland in the Kayaking event and Gina is the Head Coach for the Ladies Basketball Team.
The article above is specific to the following Saolta hospitals::
University Hospital Galway (UHG)