You are here
UHG is first centre to introduce revolutionary nerve blocking probe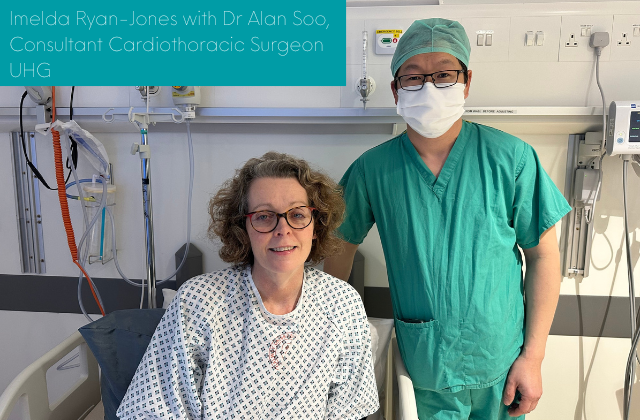 University Hospital Galway (UHG) has become the first centre in Ireland to introduce a nerve blocking probe which uses liquid nitrogen to freeze nerves and remove pain post surgery.
The CryoNerve blocking probe delivers liquid nitrogen at a temperature of around -190 degrees from the tip of the device during invasive surgery.
This device is applied to the nerve underneath each rib, freezing it and temporarily stopping its conduction. These nerves are one of the main sources of pain after chest surgery, and cryo nerve block helps by temporarily shutting off the nerve.
Once frozen, it thaws over a period of months, reducing pain for patients recovering from major surgery.
Dr Alan Soo, Consultant Cardiothoracic Surgeon at University Hospital Galway, who has introduced the technology to Ireland for thoracic surgery says the device also has the potential to be rolled out to cardiac surgery.
"Evidence has shown that this is effective in reducing pain and does not cause permanent damage to the nerves and surrounding structures. This device had been used in thoracic surgery to freeze the intercostal nerve which is the Achilles heel of thoracotomy pain. Emerging evidence has also shown that it is effective in cardiac surgery following sternotomy.
"In UHG, we have been designated as the first centre to introduce this device. We have since employed this device in around 8 patients. All patients who received this treatment on top of their usual analgesic strategy had dramatic improvement on their post-operative pain and reduction in length of stay. We aim to introduce this strategy on to patients receiving cardiac surgery soon," he added.
Sligo woman Imelda Ryan-Jones was the first person to avail of the device in Ireland. Imelda underwent surgery in February during which the device was used on the nerve endings in her back.
"I can honestly say that I have had zero pain since my surgery in this area on my back, which I affectionately call my Shark Bite," said Imelda.
"I have had severe pain around my front ribs, as they were moved so much during surgery, but much to my relief my Shark Bite has definitely been pain free. I practically forgot it was there and it has healed tremendously well too. I highly recommend this new innovative procedure and it was my pleasure to participate," she added.
Chris Kane, Hospital Manager of Galway University Hospitals praised the team who introduced the innovative technique.
"This device is making a real difference to the patient experience and we are delighted to have introduced it here in Galway. It is another example of the ground-breaking innovation taking place at the hospital." 
Ends 
The article above is specific to the following Saolta hospitals::
University Hospital Galway (UHG)