You are here
Two new dedicated patient-centred patient roles launched in Mayo University Hospital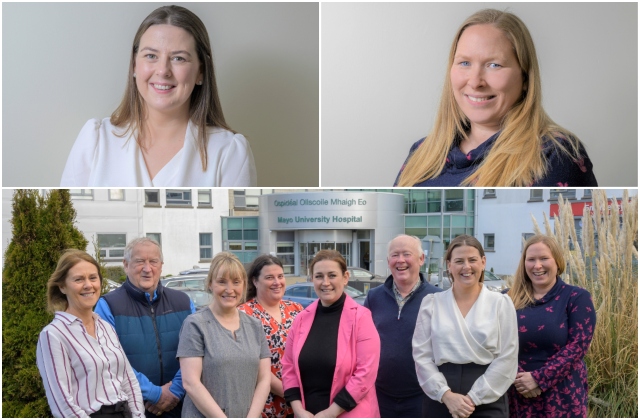 Mayo University Hospital (MUH) is delighted to announce two new roles within the hospital which are aimed at improving patient engagement and providing support to patients and their families. The new appointments are part of a strategic focus on emphasising the value of the voice of patients in their own care as well as in the planning and delivery of care across the hospital.
Ciara McLaughlin has been appointed as Patient Engagement and Partnership Coordinator and Lorraine Cooney has taken up the role of the Patient Advice and Liaison Service Coordinator.
Engagement is essential to the delivery of patient-centred care and MUH has an active patient and family engagement forum since 2016. Our advisors work with staff on operational committees, quality improvement initiatives and the development of new services for the benefit of patients.
Ciara McLaughlin, newly appointed Patient Engagement and Partnership Improvement Coordinator in MUH is responsible for facilitating patient engagement through training and supporting staff, assisting the hospital volunteers and coordinating the patient and family engagement forum. Ciara is a Ballina native and has recently returned to Mayo following 14 years working in the NHS.
Speaking about her role Ciara said, "I am delighted to take up this post with MUH and to be part of a dynamic and committed team of staff, volunteers and patient advisors who are all working towards a common goal of making our hospital a better place.
"We have developed some excellent projects in partnership with our patient advisors including a new patient information booklet, the Wellness Walkway, and purposeful visiting. All of these projects have been co-designed with our patient advisors who have shared their perspectives and lived experience of using hospital services. I am really looking forward to building on this work and would encourage anyone who has interest in becoming a patient advisor to get in touch.
"The hospital's Volunteer Service has had over 50 members of the community participating in the scheme since its inception in March 2012. Volunteers ensure patients and visitors have a warm, friendly welcome and assist with directions and any information needed. I'd like to thank all our volunteers for giving their time so freely, they are kind and helpful and a wonderful example of Mayo community spirit in action."
The Patient Advice and Liaison Service Coordinator (PALS) acts as the main contact between patients, their families, carers and the hospital. PALS provide a confidential and impartial liaison service offering patients support and advice, responding to their concerns and passing on feedback within the hospital.
Lorraine Cooney was appointed as PALS Coordinator in MUH, she joined MUH from Galway University Hospitals where she worked as a Clinical Specialist Radiation Therapist for past eight years. Speaking about her role Lorraine said, "I know that being in hospital can be a vulnerable time for patients and their families. I hope the role of PALS provides a contact point to offer support and advice. I am passionate about making each patient encounter as positive as possible, by championing effective communication and ensuring the patient's voice is heard, either directly or through a nominated individual. I am also committed to ensuring patient feedback is channelled towards learning, as we strive to continually improve the patient experience in MUH."
Catherine Donohoe, Hospital Manager concluded, "I am delighted to welcome both Ciara and Lorraine to the MUH team. We know that meaningful patient and family engagement, from the bedside to the management table is a critical part of services delivery and development. It is one of the key tenets of the framework for ongoing quality improvement and is proven to be a key driver for improvement and positive change as we have seen with some wonderful examples in MUH of working in partnership with patients on key projects. The PALS and patient engagement services will strengthen our commitment to put the patient at the heart of everything we do; listening, responding and innovating based on patient feedback and collaboration. These two staff members are only in post for a short time we already see the positive impact they are having on our patients, families and staff."
Lorraine and Ciara can be contacted on 094 904 2172 or via MUHPatientFeedback@hse.ie. More information is available on our website: www.saolta.ie/hospital/muh
The article above is specific to the following Saolta hospitals::
Mayo University Hospital (MUH)