You are here
An Taoiseach Leo Varadkar opens 75 bed ward block at UHG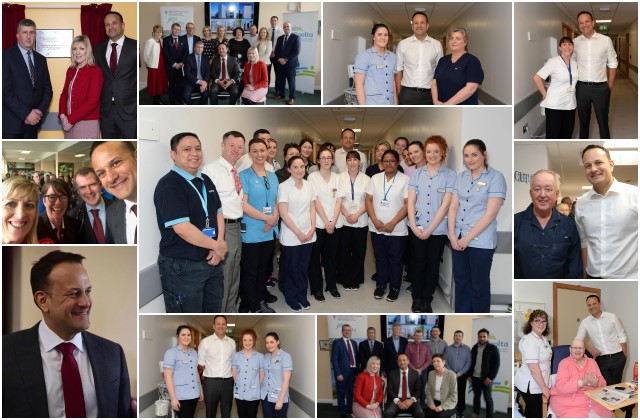 A new 75 bed ward block development at University Hospital Galway was officially opened by An Taoiseach Leo Varadkar TD on 12 April, 2018.
The new building, which is over three floors, provides 75 single en-suite bedrooms, including six dedicated isolation rooms – two on each floor. The Corrib ward on the ground floor is a dedicated oncology ward, the Shannon ward on the first floor is a dedicated Infection Control ward and the Claddagh ward on the second floor is the Haematology ward. The second floor is fully mechanically ventilated providing HEPA (high efficiency particulate air) filtered air supply to these rooms to protect immune-compromised patients. The €18 million development is linked to the main hospital.
Commenting An Taoiseach Leo Varadkar TD said, "I'm really pleased to officially open these new wards providing essential high-quality accommodation for patients. This is only the latest phase in our on-going programme of investment for UHG, providing 75 single en-suite rooms, and six dedicated isolation rooms. There's a dedicated oncology ward, an infection control ward, and a haematology ward. Plans are also progressing for the new Emergency Department. And the Government's Project Ireland 2040 will see significant investment in facilities right across the west.
"This facility and the future additional bed capacity in Galway is sorely needed to meet the rising demand for healthcare and to serve the rising population of the region. As Minister for Health, I reversed the previous government's policy of reducing the number of beds in our hospitals. More than three hundred will be added across the country this year with 2,500 over the next ten years. We know, however, from other hospitals, that extra staff, beds and money will not reduce waiting times for patients or overcrowding if it's not done in tandem with modernised systems and ever more efficient practices. I am sure we will see these continue to develop in Galway in the period ahead."
Commenting, hospital manager Chris Kane said, "This new development provides much improved accommodation for our patients in University Hospital Galway. Single rooms with en-suite facilities allow us manage issues such as infection control in a much better way. University Hospital Galway is one of the busiest hospitals in the country and the additional beds provided by this new building help us to accommodate and treat the large number of patients treated in our hospital every day. Developing a building as large as this in the centre of an extremely busy acute hospital was very challenging and the work took place over a period of 19 months.  I would like to acknowledge our staff who continued providing high quality patient care throughout the period of this project".
The article above is specific to the following Saolta hospitals::
University Hospital Galway (UHG)