You are here
SUH Flu vaccine prize winners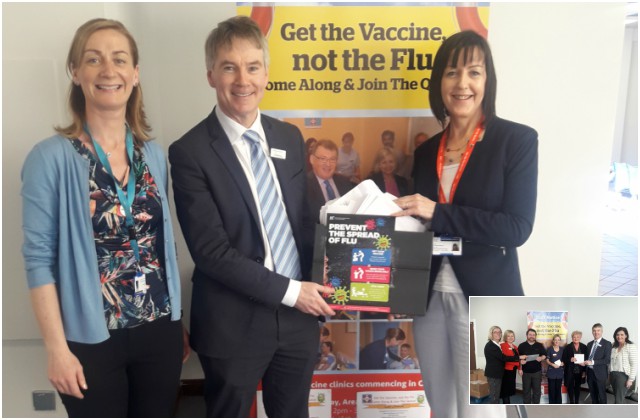 The draw for the prizes for staff who had the flu vaccine was held recently in Sligo University Hospital with Anne Marie Mahon and Niamh Finlay from Occupational Health making the draw . The lucky winners were:
Caolan Coleman, Medical Intern
Jonathan Morrissey, Microbiology Dept
Niamh Walsh , CNM 2 OPD
Helena Haran, Physiotherapist 
The total uptake for the 2017/18 season was 629 (36%). This is a 50% increase in the uptake for last year when 24% of staff received the vaccination.
Domhnall McLoughlin, Deputy GM, SUH paid thanks to all those who supported the roll out of the campaign, and especially "I would I like to thank the SUH local committee, my colleagues in Occupational Health, Michael Cannon and Alia Tarabulsi,  Peer Vaccinators, Niamh Walsh and Sheila Fowley for facilitating the vaccinations in their areas, Phill Armstrong for securing the prizes and Pamela Normoyle, Saolta Lead, All Clinicians and Managers and staff who promoted and received the vaccine."
 
The article above is specific to the following Saolta hospitals::
Sligo University Hospital (SUH)