You are here
Staff Recognition Awards launched at Galway University Hospitals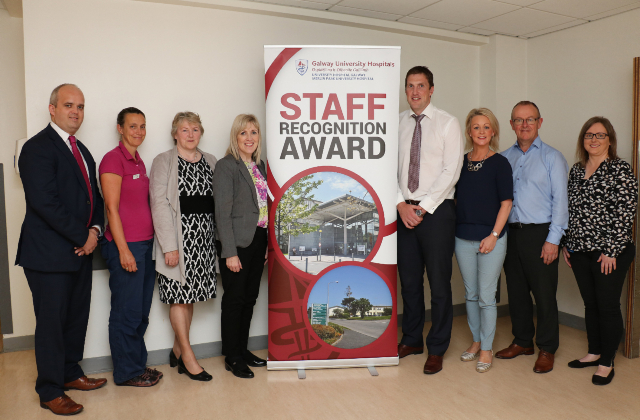 Galway University Hospitals has launched new Staff Recognition Awards which will be presented each quarter to one staff member who has been nominated by colleagues for exceptional effort and contribution in the area they work.
Chris Kane, General Manager, Galway University Hospitals said, "I am delighted to announce our new quarterly Staff Recognition Awards which launched this week. All employees in Merlin Park University Hospital and University Hospital Galway are eligible and may be nominated by a colleague or manager for the Award. At the end of each quarter we will select the nominee who best meets the criteria.
"The Staff Recognition Awards aims to acknowledge and celebrate staff who go the extra mile for patients, who give an outstanding level of support to patients and colleagues or who are providing leadership by motivating, mentoring and inspiring others.
"Every day we hear stories of colleagues who perform at a level above and beyond normal job requirements and expectations and now we will be able to formally recognise this. The Staff Recognition Awards are one of a series of initiatives underway to enhance employee engagement. I am very proud of the staff working in both of our hospitals and the care they provide for our patients.
"Galway University Hospitals (GUH) is an extremely busy hospital with staff providing care across two sites in the City. GUH is the major hospital in the region providing services for a wide range of specialties and is a designated supra-regional centre for cancer and cardiac services serving a catchment area of around one million people along the west coast from Donegal to Tipperary North. This is only possible due to our excellent staff and the Staff Recognition Awards aims to acknowledge their hard work."
Photo Caption:
At the launch of the Galway University Hospitals Staff Recognition Awards from left: David Holland, Finance Manager; Irene Maguire, Senior Physiotherapist; Mary Cotter, Assistant Director of Nursing, Merlin Park; Chris Kane, General Manager; Brian Mullin, Medical Manpower Manager; Ailish Mohan, Business Manager; Martin Molloy, Information Services Manager; and Louise Melia, Human Resources.
The article above is specific to the following Saolta hospitals::
University Hospital Galway (UHG)