You are here
Sligo University Hospital unveil 'bench project' as part of Health and Wellbeing initiative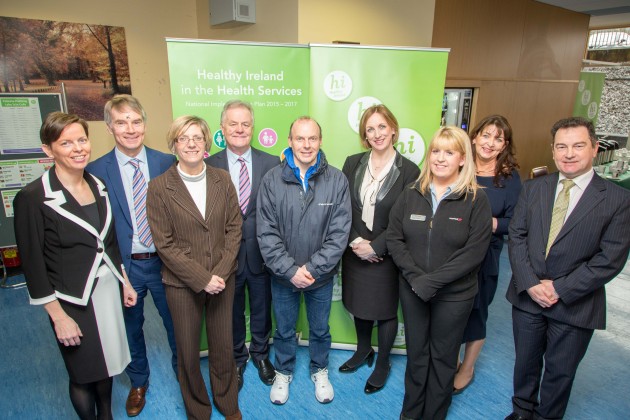 As part of the HSE Healthy Ireland Policy and HIQA Nutritional & Hydration Standards Better Health & Well-being, Sligo University Hospital (SUH) is always actively promoting Healthy lifestyle initiatives, in efforts to support the health and wellbeing of staff, families, patients and service users and on Wednesday 01 March, 2017 saw the unveiling of the 'bench project' as part of their Health and Wellbeing initiative.
Sligo University Hospital established a local Healthy Ireland local implementation group to progress various initiatives under the strategy and one initiative that came to mind was the use of benches around the hospital to promote health and wellbeing.
Patricia Lee, Services Manager, Sligo University Hospital explains "Hospital life encapsulates the whole range of emotions from joyful celebrations, relief at a positive health outcome/relinquished health fears, to a place of utter despair, acute emotion and stress as tragic and/or life changing events unfolds, sudden deaths, accidents, tragedies, profound grief, disbelief and loss. With this in mind it was decided to create an outdoor space with benches for staff, families, patients and service users alike to avail of. We were very fortunate to receive five benches which were sponsored to the hospital by the SUH Sports and Social Club, BDS Vending Solutions, RICOH, Abbott Diagnostic and Aramark. These benches will give people a chance to take some time out to reflect, relax or just simply take a break.
The benches are located on the hospital grounds at strategic points near the Emergency deparment, oncology area, dialysis area and medical/surgical area.
The article above is specific to the following Saolta hospitals::
Sligo University Hospital (SUH)