You are here
Sligo University Hospital short listed for Excellence in Waste Management and Recycling Award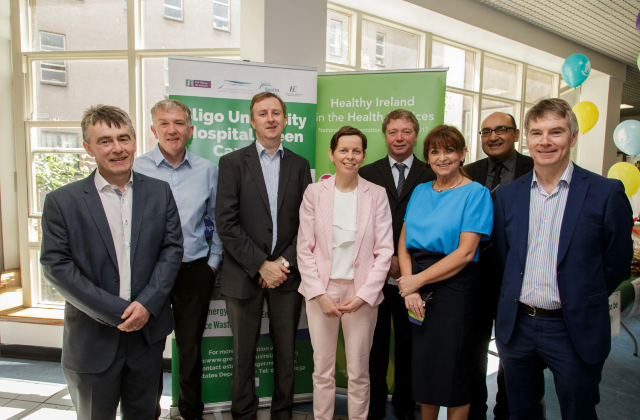 Sligo University Hospital has been shortlisted for two Pakman Awards under the 'Professional Services Award' and 'Waste Prevention Business Award' categories.
The Pakman Awards - previously the Repak Recycling Awards - are national awards that recognise excellence in waste management and recycling among businesses, organisations and community groups in Ireland.
Patricia Lee, Service Manager at Sligo University Hospital is a member of the Green Campus Committee which brings together staff from the hospital and HSE Estates to support and encourage waste prevention and energy efficiency by staff and the public. Commenting on the Award shortlisting, Patricia said, "We are delighted that we have been shortlisted for the Pakman Awards which recognise the Green Campus sustainability initiatives we have introduced at the hospital to reduce energy consumption and savings through a lighting replacement programme, upgrading heating pumps, replacing the main hospital boiler heating plant and energy savings campaigns such as 'switch off' campaigns across the hospital. 
"Waste Prevention initiatives at the hospital have focused on minimising waste, promoting use of keep-safe cups, reducing single use cups/containers, reducing land fill waste by education and awareness on the correct segregation of waste, promoting lean management initiatives and reuse initiatives. Comparing the first half of 2018 with 2017, our landfill waste has reduced by 19% and our recycling waste has reduced by 23%.
"A key component of our efforts to reduce energy consumption has been staff involvement. We have a multidisciplinary Energy Map Team representing all the high energy user Departments and this team carries out audits and surveys, organises awareness and education events and incorporates suggestions from staff into on-going plans for energy efficiency.
"The Pakman Award Ceremony takes place in Dublin on 25 October. In addition to the two individual awards, Sligo University Hospital is in with a chance of being selected as Ireland's overall winner for Excellence in Waste Management and Recycling. We will be hoping to follow on from our success last year when we won the prestigious 2017 Pakman Award for Food Waste Management."
Photo Caption:
The Sligo University Hospital Green Campus Committee at a Green Campus Sustainability Day in 2018, from left: Michael O'Brien, Energy Officer, HSE Estates; Gary Streete, Waste Management Co-ordinator; Declan Mc Goldrick, Project Manager, HSE Estates; Fergal McGirl, HSE Estates; Patricia Lee, Service Manager; Pauline Kent, SUH Healthy Ireland Chairperson; Tony Mootoo, Quality and Safety Dept; and Domhnall McLoughlin, Deputy General Manager.
The article above is specific to the following Saolta hospitals::
Sligo University Hospital (SUH)