You are here
Sligo University Hospital looking for volunteers to lead the way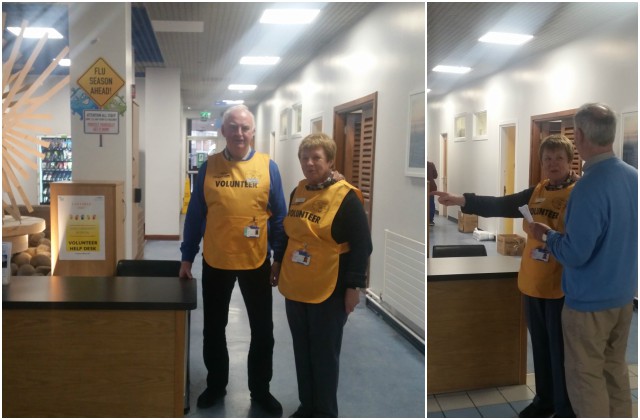 Sligo University Hospital is calling for people who are interested in becoming Meet and Greet Volunteers in the hospital. Volunteers provide assistance to patients and visitors to Sligo University Hospital, their role is to help with directions, answer general enquiries and in essence, be a 'go to' information point at the hospital.
The Meet and Greet Volunteer Service at Sligo University Hospital has been running very successfully for 8 years now, and staff and visitors have been wholehearted in their praise of the valuable work that the volunteers have been carrying out during that time.  One of the Meet and Greet Volunteers, Ann Kerrigan has been working at the hospital for the last 5 years.  Ann signed up to be a volunteer as she believed it would be a useful way of giving something back to the community, and she has discovered over the past few years what a valuable and appreciated service it is to people visiting the hospital.
The main role of the volunteers is to provide a friendly welcome and a reassuring first impression to everyone who enters the hospital and to help and guide visitors and patients to the various wards, departments and clinics in the hospital. The Meet and Greet Volunteers are located on level 3, the main foyer of Sligo University Hospital.  When people need directions to a particular ward or clinic, the volunteers will bring them to their destination, chatting and easing stressed nerves along the way.  The volunteers wear distinctive yellow bibs so they are easily identifiable and are always very approachable and willing to help. 
Michael Kilroy who signed up for the Volunteer Service three years ago says; "Volunteering at the hospital is just brilliant and something I really enjoy.  The best part is that you are helping someone and making their visit to the hospital a more pleasant experience.  People can get disorientated in a place they are not used to.  Showing people where to go, or taking them to their appointment so they arrive relaxed and with a smile on their face gives me a great sense of achievement."
Eric Plunkett, Volunteer Co-ordinator, Sligo University Hospital is fulsome in his praise of the volunteers, saying they have brought a wealth of life experience which has been of great benefit to patients, their families and visitors in general. "Since the 'Meet and Greet' Volunteer Service at Sligo University Hospital commenced, it has helped ensure that the hospital experience is as pleasant as possible in what can be a worrying, overpowering experience for some patients, families and visitors", says Eric.
"The Volunteer Service has been a great success at the hospital, with very positive feedback from the public. The service is there to assist patients and visitors who may need help in finding where specific services are based in the hospital. It may sound simple, but if a patient or visitor is worried or stressed when they come to the hospital, it can mean so much to be greeted by a friendly face that will help them get to their destination. The volunteers also wait with frail older patients in the foyer while relatives bring their cars to the front door, and again relatives value this service greatly.
"The volunteers are ordinary people who give willingly of their time and generously help others to cope with the challenges of attending a busy acute hospital. They have brought such positivity and energy to their role and have become an integral and valued part of the team in Sligo University Hospital."
Volunteers deliver this service 3.5-hour session per week either morning or afternoon for a minimum period of six months. They must be over 18 years of age, in good health and comfortable being on their feet for a few hours.  If you are interested in joining our team of volunteers and would like more information, please contact the Quality and Safety Department, Sligo University Hospital on 071-9171111 ext: 2609/4210/4302 or email volunteer.coordinator@hse.ie
Photo caption
Meet and Greet Volunteers Michael Kilroy and Ann Kerrigan at Sligo University Hospital
The article above is specific to the following Saolta hospitals::
Sligo University Hospital (SUH)