You are here
Sligo University Hospital - Big Switch Off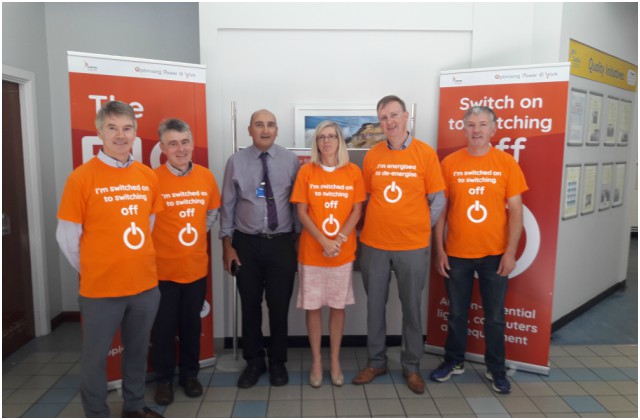 Over the August bank holiday weekend, Sligo University Hospital took part in the "Big Switch Off" organised by the Office of Public Works and the HSE's National Health and Sustainability Office. The aim was to conserve as much electrical and thermal energy as possible across the campus over the weekend and the efforts will be repeated over the October bank holiday weekend.
Domhnall McLoughlin, Deputy General Manager at the hospital said, "Sligo University Hospital participated as one of six campus energy teams to compete against each other in a bespoke ten-step energy saving programme designed to generate significant energy savings and demonstrate the impact of small individual changes over a bank holiday weekend.
"The success this weekend is due to the high level of staff engagement in the campaign. One of the ten steps in the campaign which earned points for the participating campus required us to complete 100 staff energy surveys. We were delighted when over 170 of our staff responded which indicated a very positive approach to the project.
"The results of our energy saving efforts will be compared with the other five competing sites to see who can claim to be Energy Saving Champion. In the meantime we will be using the combination of behavioural change science, technology and specialist expertise to improve our energy use practice here on the SUH campus."
In addition to monitoring heating controls, air handling units and other electrical equipment this weekend, the staff in the hospital focused on turning off all computers, monitors, printers, photocopiers when not in use; turning off lights in lobbies, corridors and stairwells when bright; and switching off equipment in stand-by mode when safe to do so.
Photo caption:
At the launch of the "Big Switch Off" energy saving campaign at Sligo University Hospital on Friday 03 August, from left: Domhnall McLoughlin, Deputy General Manager; Michael O'Brien, Energy Officer, Estates Dept; Tony Mootoo, Quality and Safety Dept; Grainne Mc Cann, General Manager; Declan Mc Goldrick,Project Manager, Estates Dept; and Gary Streete, Waste Management Co-ordinator.
The article above is specific to the following Saolta hospitals::
Sligo University Hospital (SUH)