You are here
Sligo University Hospital and the Saolta Staff Recognition Awards 2019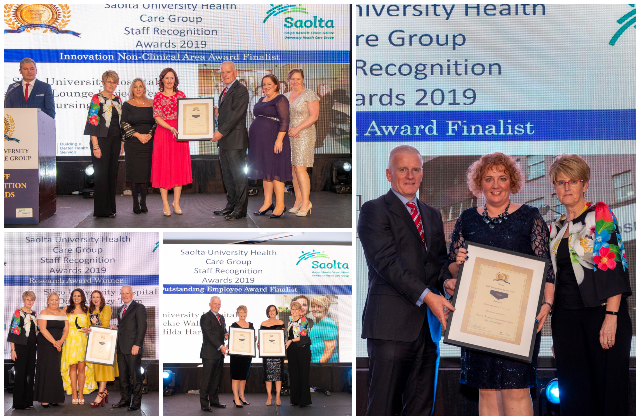 Sligo University Hospital (SUH) won Saolta Staff Recognition Awards in two categories at a ceremony in Mayo recently.
The Dermatology Team won the 'Research Award' for their work with members of the Traveller Community on the topic of skin health and the 'Outstanding Employees Award' was presented to Jackie Wallace and Hilda Harte who work in the Lake Isle Coffee Dock at the hospital.
More than 160 nominations from across the Saolta Group of hospitals were received for the six award categories which included: Quality Improvement and Patient Experience Award; Innovation in a Non Clinical Area Award; Education and Training Award; and Innovation in a Clinical Area Award in addition to the categories won by SUH – Research Award; and Outstanding Employees Award.
The event was hosted by Mayo Senior Football Manager James Horan and the awards were presented by Saolta CEO Tony Canavan and Chief Director of Nursing and Midwifery, Jean Kelly.
Grainne McCann, General Manager, Sligo University Hospital said, "The research undertaken by the Dermatology Team involved focus groups with members of the Traveller Community in counties Leitrim, Mayo and Galway. The aim was to investigate Travellers' experience of skin health and their relationship with healthcare providers. The research showed the importance of integrating the patients' cultural, social or community based beliefs to ensure effective delivery of healthcare. This research is of value to all clinicians in the hospital and also the wider healthcare service, including GPs and Pharmacists.
"I am delighted that Jackie Wallace and Hilde Harte were presented with the 'Outstanding Employees Award' for their outstanding customer service. Their positive attitude, care and compassion is apparent to all their colleagues, staff, patients and visitors to the hospital. They always put the customer first and are worthy winners."
In addition to winning three categories, SUH projects were also shortlisted for the following awards:
Innovation in a Non Clinical Area - Discharge Lounge Project Team.
Research Award - Margaret Given, General Surgery Department.
The Saolta University Health Care Group Staff Recognition Awards take place every 2 years and aim to recognise the important role that staff play in delivering services to patients cared for in all six hospitals in the Group. All applications are judged by an independent panel and the event is self-funded through sponsorship.
The article above is specific to the following Saolta hospitals::
Sligo University Hospital (SUH)