You are here
Sligo University Hospital's Endoscopy Department achieves JAG Accreditation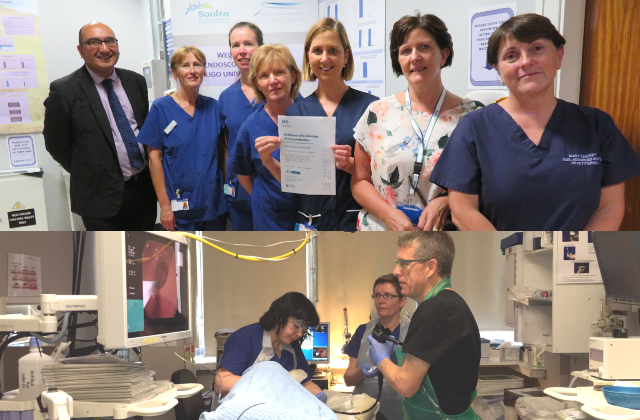 Last month, following completion of an in-depth accreditation checklist and site assessment, the Endoscopy Department at Sligo University Hospital was successfully awarded accreditation through the UK based accreditation programme for Gastrointestinal Endoscopy known as the Joint Advisory Group or JAG.
The JAG accreditation is regarded as one of the most innovative in the healthcare sector and focuses on a model of care which is patient-centred and work force based.
Speaking after the accreditation, Dr Kevin Walsh, Clinical Lead for Endoscopy at the hospital said, "We are delighted with our JAG re-accreditation. We first achieved this accreditation in 2012 and as a result Sligo University Hospital was able to roll out the National Colorectal Cancer Screening Service (NCSS) as one of only 15 sites in Ireland. It is so important that we are able to provide this essential service to people living in Sligo, Leitrim, South Donegal and West Cavan.
"A huge amount of work goes into preparing for the JAG accreditation. Every part of our service is examined in detail and benchmarked against a number of standards. The process is broken down into 6 areas: clinical quality; the quality of the patient experience; workforce; training; the environment and facilities; and decontamination.
"The feedback from the accreditation team was very positive and they commented that the care offered is of the highest standard. In addition, the feedback acknowledged that there is an excellent culture of safety and learning in the service and we were congratulated on our strong and effective clinical leadership and the emphasis the team places on quality and governance.
"An award of JAG accreditation means we are able to demonstrate that we are delivering a quality assured, standardised and safe Endoscopy service to our patients from a competent, dedicated and caring team. This is significant for patients attending for a screening colonoscopy as part of the NCSS to detect the presence of bowel cancer before symptoms occur, as well for our symptomatic patients who are referred from their GP or consultant for a range of Gastrointestinal procedures."
The article above is specific to the following Saolta hospitals::
Sligo University Hospital (SUH)