You are here
Sligo IT pilot first MEDEX programme outside of DCU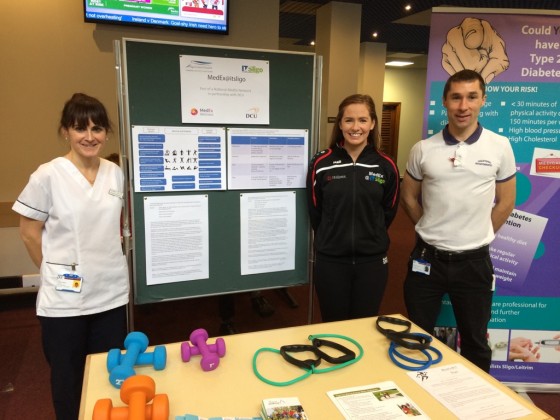 Physiotherapy Department at Sligo University Hospital  in collaboration with Sligo IT pilot first MedEx programme outside of Dublin City University since its establishment in 2006. MedEx is a novel, community-based rehabilitation and exercise programme for people with a chronic illness or disease.  
MedEX@ITSligo offers medically-supervised exercise classes and educational workshops to participants with a wide range of chronic illnesses, e.g. arthritis, Parkinson's, stroke, multiple sclerosis and stoma patients. The location of MedEx@ITSligo offers access to a high standard exercise facility, staff expertise with student involvement, support from a comprehensive research team, as well as medical expertise and supervision from Physiotherapists from Sligo University Hospital. The MedEx@ITSligo format also encourages peer support through social interaction before and after classes, in addition to independent exercise.
Audrey Colreavy, Senior Physiotherapist in Cardiology, Sligo University Hospital said, "Recent research findings involving MedEx@ITSligo and Phase 4 cardiac rehabilitation patients highlighted the significant health and social benefits of this programme. Following a ten week MedEx@ITSligo programme, participants demonstrated a significant improvement in their functional exercise capacity, cardiorespiratory fitness and confidence in exercise participation. Regular supervised exercise-testing, educational sessions and the social interaction were all rated by the participants as highly valued components of the MedEx@ITSligo programme. The research findings reinforce the role of MedEx@ITSligo as an important link between acute hospital and community health and exercise providers for patients with cardiovascular disease.
"The benefits of exercise for people with Type 2 diabetes was also well established showing lower blood sugar levels, improved insulin sensitivity, improved lean body mass and bone strength, lower cardiovascular risk, improved circulation and enhanced quality of life associated with lower stress levels. It is now planned to extend the MedEx@ITSligo programme in January 2018 to a cohort of patients with Type 2 diabetes. The 10 week programme will involve twice weekly circuit training classes of mixed aerobic and strengthening exercises in an interval training format. Baseline and follow up measurements at week 10 will include the 6 Minute walk test, sit to stand and grip strength, sit and reach test and the modified stork balance test. Anthropometric measurements will include BMI and waist:hip ratio, in addition to quality of life and physical activity questionnaire completion."
MedEx@ITSligo provides people with chronic illnesses/diseases with an opportunity to meet the "Healthy Ireland" current exercise recommendations and to achieve the health benefits associated with exercise in a safe, enjoyable and supportive environment.
Photo caption
L:R - Audrey Colreavy, Senior Physiotherapist in Cardiology, SUH; Ingrid McLoughlin, MedEx fitness instructor and Aidan McMoreland, Staff Physiotherapist in Medicine, SUH.
The article above is specific to the following Saolta hospitals::
Sligo University Hospital (SUH)