You are here
Sepsis Awareness Day at Mayo University Hospital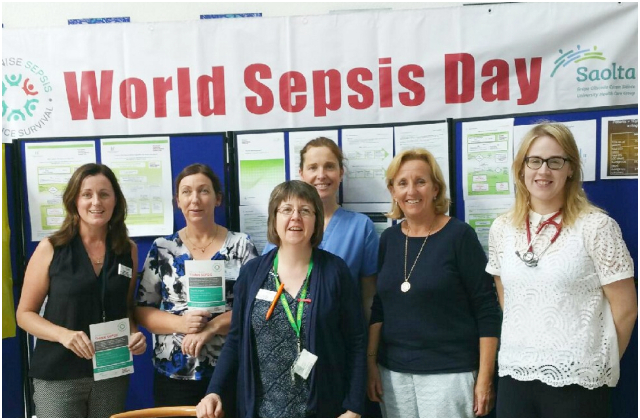 On Friday 13 September, to mark World Sepsis Day, the Sepsis Team at Mayo University Hospital will hold a Sepsis awareness event in the main foyer of the hospital.
Liz Casey, Sepsis Lead at Mayo University Hospital said, "Sepsis awareness is not just about September 13, it's about an ongoing effort to increase awareness and continuously improve the quality of care that we provide for our patients. Public awareness is important given that 70% of sepsis cases originate in the community.
"On Friday 13 September, hospitals all around the world will hold education events to increase public awareness of sepsis and we are delighted to play our part here in Mayo also.
"Sepsis is a common, time-dependent medical emergency which can affect a person of any age, from any social background and can strike irrespective of underlying good health or medical conditions. However, early recognition and timely referral can have a major impact and this is the message we want to get out.
"We held a similar awareness event in the hospital last year and the interest from the public was incredible. Based on the feedback from last year, we are organising another awareness day next Friday which will be an opportunity for patients and visitors to meet with a range of staff including Antimicrobial Pharmacists, Surveillance Scientist, Microbiology staff, Nurses, Midwifes, Doctors and Infection Control staff, to learn more about Sepsis. We will have information leaflets and quizzes with spot prizes."
Michelle Duggan, Chair of the Deteriorating Patient Committee commented 'Mayo University Hospital audit compliance with national clinical guidelines on sepsis management. Year on year, we have achieved improvements in timely recognition and prompt appropriate treatment of sepsis. This has resulted in an improved outcome for patients who present with sepsis.'
Catherine Donohoe, hospital General Manager acknowledged the ongoing work and said, "I am very proud of the work which has been achieved in MUH on managing SEPSIS.  There is a constant focus by senior clinicians on improving standards in its recognition and management . With the awareness day we are looking to have a partnership approach with our patients so together we can achieve excellence in SEPSIS management".
The awareness event will take place from 10am to 3pm in the main foyer of Mayo University Hospital and everyone is welcome!
Photo Caption:
Staff at Mayo University Hospital at a previous World Sepsis Day Event at the hospital, from left:  Caroline Conway, Assistant Director of Nursing, NPD; Carmel O'Neill, QPS; Pauline McEllin, S/N MAU; Dr Fionnuala Lavin, Consultant; Dr Christine Newman, SPR; Liz Casey, Resuscitation and EWS Training Officer, Nurse Sepsis Lead.
The article above is specific to the following Saolta hospitals::
Mayo University Hospital (MUH)