You are here
Saolta University Health Care Group launch 2018/2019 Flu Vaccine Campaign in partnership with UNICEF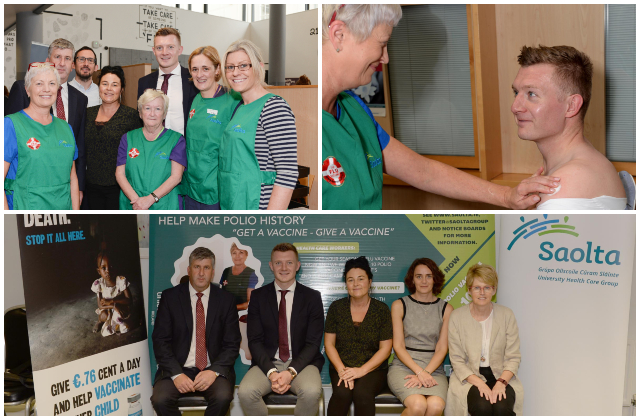 Following the success of last year's flu vaccine campaign Saolta University Health Care Group have once again partnered with UNICEF to launch the 2018/2019 flu vaccine campaign "Get a vaccine, give a vaccine".  This year's campaign was officially launched in University Hospital Galway yesterday, Thursday, 27 September by UNICEF ambassador and Galway hurler, Joe Canning. For every flu vaccine given to staff, 10 polio vaccines will be donated to UNICEF. UNICEF is committed to the eradication of polio and through this promotional campaign staff and students can support this valuable initiative.
Commenting John Shaughnessy, Director of HR Saolta University Health Care Group said, "Saolta University Health Care Group are delighted to partner with UNICEF again this year. The group donated a total of 36,910 polio vaccines to UNICEF earlier this year as a result of the "Get a vaccine, give a vaccine. This donation will assist UNICEF with their global effort to eradicate polio in three countries (Afghanistan, Pakistan and Nigeria).
"A total of 3,691 health care workers (37.1%) in the Saolta Group received their flu vaccine in 2017/2018; this figure reflects a 50% improvement on last year's uptake rates of 24%. 
"Vaccination of healthcare workers has been shown to reduce flu-related deaths by 40% and as we approach flu season, we encourage our health care workers to get the vaccine to protect themselves, their families and their patients. For the next number of months, we will have a number of clinics available at each hospital site to make it easier for our staff to avail of the vaccine. We have also trained a number of staff as Peer Vaccinators who go directly to wards and units to provide the vaccine to their colleagues.
"Our staff can know that as well as protecting themselves and those around them, they are also making an important contribution to UNICEF's work."
UNICEF Ambassador Joe Canning added, "I am thrilled to support the 'Get a vaccine, give a vaccine' campaign again this year. It is a simple yet powerful campaign that means UNICEF can be there for children in greatest need. I've seen first-hand the life-changing impact that simple medical interventions like this can bring to children in the countries where UNICEF works, and as a proud Galway man, I'm delighted to see the passion and commitment shown by staff at the Saolta Group here in my home county. It's a real team effort, and the impact on children's lives will be enormous."
Peter Power, Executive Director of UNICEF Ireland said, "We're delighted to continue our innovative campaign with the Saolta Group this year. Last year the campaign enabled UNICEF to purchase 36,910 polio vaccines and delivered such a positive impact on children, both here in Ireland and around the world. Thanks to commitment and drive shown by everyone involved, UNICEF ensures that some of the most vulnerable children in the world can receive the polio vaccination, helping them to survive and thrive. That is a central part of UNICEF's mission, and we are glad to support this initiative."
Dr Aine McNamara, Consultant in Public Health Medicine, HSE West added, "Healthcare workers are at increased risk of exposure and infection to influenza. Every year at least 20% of healthcare workers are infected with influenza. They are at risk of passing it on to their family, colleagues and patients. Influenza can be severe, causing serious illness and death, especially in the very young, the elderly, cancer patients and pregnant women. Even those who are healthy can get seriously ill from influenza. The seasonal flu vaccine is a safe (millions of doses have been given over the past 60 years) effective way to help prevent influenza, avoid hospitalisation and reduce flu related deaths and illnesses."
The article above is specific to the following Saolta hospitals::
University Hospital Galway (UHG)