You are here
Saolta University Health Care Group holds first public Board meeting in Roscommon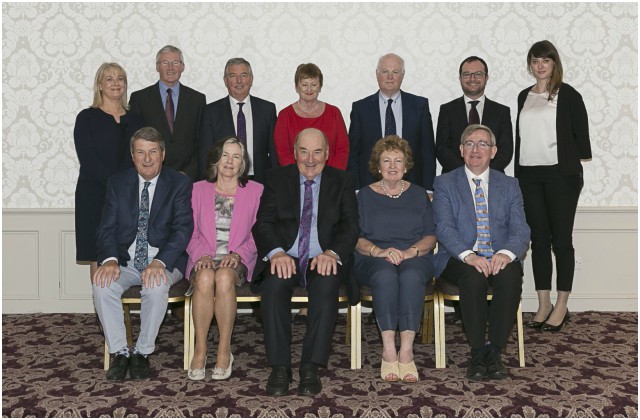 The first public meeting of the recently appointed Board of the Saolta University Health Care Group took place on 13th June 2018 in Roscommon.
Commenting Dr John Killeen, Chairman of the Board said, "The current Board was appointed by the Minister for Health in late 2017 and has met monthly since then. This meeting was the first public meeting of the Board. The Board is responsible for ensuring that the Saolta Group is achieving its strategic objectives and effectively managing its available resources to provide sustainable, safe and effective person- centred care. We are continuing to develop and progress our governance structures. Patient safety and quality are core to our mission and are at the centre of our decision making
"We were particularly delighted that the Board met in Roscommon and that the Board members had the opportunity to visit Roscommon University Hospital (RUH) to see the excellent service provided there and meet its committed and dedicated staff."
Commenting at the meeting Maurice Power, Chief Executive Officer of the Saolta University Health Care Group said "We have always worked very closely with our non-executive Board members and value the oversight and support they provide. The current Board was established in late 2017 and we continue to meet monthly. Of particular value to the executive are the sub-committees of the Board, which deal with patient safety, audit, strategic manpower planning and finance. They provide an extremely valuable external dimension to the work we do and the decisions we take."
Board meetings rotate across the Group allowing Board members the opportunity to visit the hospitals in the Group and meet with the staff.
At the meeting yesterday Mary Garvey, General Manager, Roscommon University Hospital provided Board members with an update on the activity and developments underway at RUH. "The number of patients attending Roscommon University Hospital continues to increase. In 2017 there were 6,195 attendances at our Injuries Unit, a 22% increase on the previous year. We are now getting a significant number of referrals from GPs outside of County Roscommon which is a very positive development and the average waiting time, including treatment for patients, is 53 minutes. Our day-surgery service continues to grow and we have increased the range of specialty surgery in the hospital over the last number of years to include Plastics, Vascular, Maxillofacial and Urology alongside Endoscopy and General Surgery. Our key priorities over the next number of years is the further development of our day surgery service with a particular focus on patients who are waiting longest in other hospitals in the Saolta Group. We will also be progressing the Rehabilitation Unit project."
The article above is specific to the following Saolta hospitals::
Roscommon University Hospital (RUH)