You are here
Saolta Group marks International Day of the Nurse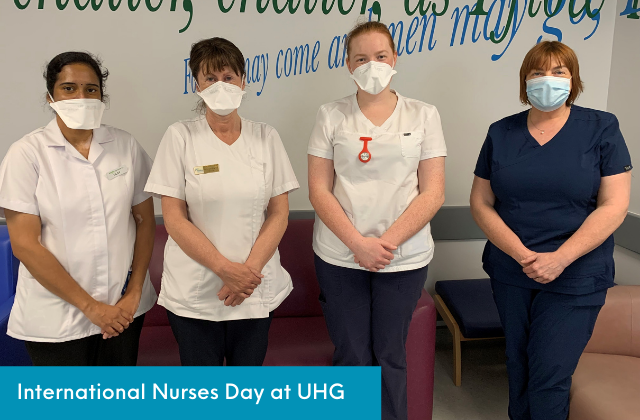 Each year we celebrate International Day of the Nurse on May 12th, the birthday of Florence Nightingale.
As we mark the day we wish to acknowledge the tireless work and dedication nursing staff across the Saolta University Health Care Group show each and every day.
Chief Director of Nursing for the group, Paul Hooton, also took the opportunity to thank our incredible nursing teams who have worked tirelessly throughout the COVID-19 pandemic.
"Our nurses are our best asset and I am grateful to work with such wonderful teams right across our seven sites.  I want to take this opportunity to thank each and every one of our nursing staff for all their dedication and commitment to their roles. Our sites could not function without them."
Olive Gallagher, Director of Nursing with the Saolta Cancer Managed Clinical Academic Network (MCAN) trained as a nurse in 1994. It is the values in nursing which drew her to the profession.
"I started my nurse training in Oct 1994 in Letterkenny General Hospital. I come from a long family history of nurses, my mum was a wonderful nurse and her commitment to patient care and sense of team always came through so strongly from her. She spoke so positively about nursing that I never really considered any other career. For me, the values in nursing really say it all - care, compassion and commitment and they matched my own values, so we are a good fit really," added Olive.
She urged people to consider joining the profession insisting "no two days are ever the same".
"Nursing is a universal language and provided me with the flexibility to travel the world and experience other healthcare systems. The opportunities and variety nursing presents is huge, with so many specialties and numerous career paths available within the profession. The constant nature of change within healthcare means you are constantly learning and growing professionally and no two days are ever the same."
Olive who has spent the majority of her career in cancer services, said she felt privileged to journey with patients during a very difficult time in their lives.
"It is a most privileged position to be in; travelling a journey with patients at a very difficult time in their lives, supporting them, guiding them and providing the best evidence-based, compassionate nursing care I can, each and every time.
"A career in nursing is not without its challenges but I can honestly say that I have never regretted my career choice and have taken every opportunity that has come my way," she added.
Filsy Chirammel, Staff Nurse at UHG said, "Nursing is one of the most wonderful and most satisfying professions in our world, we learn so much from our colleagues and our patients every day. Being able to provide care to all those in need and help people is amazing and very rewarding, it's humanity."
ENDS
Photo Caption
From left: Filsy Chirammel, Staff Nurse; Sandra McMahon, Staff Nurse; Danielle Ni Dhonnacha; Staff Nurse and Deirdre O'Halloran, CNM2 at University Hospital Galway
Photo 2
Olive Gallagher, Director of Nursing with the Saolta Cancer Managed Clinical Academic Network (MCAN)
The article above is specific to the following Saolta hospitals::