You are here
Saolta Group hosts Neonatal Study Day Conference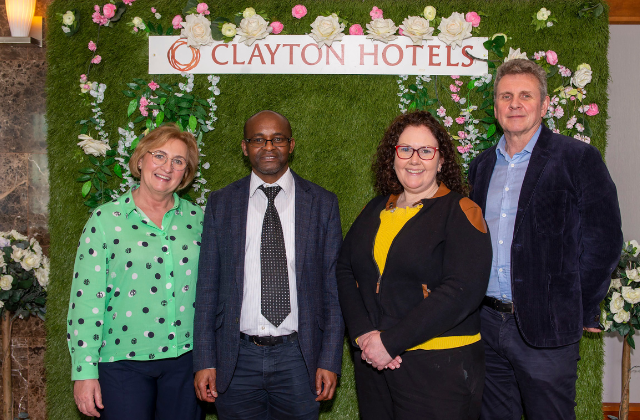 The Saolta University Health Care Group recently held its 8th Neonatal Study Day Conference at the Clayton Hotel in Galway. Over 100 delegates from the Saolta Group and other hospitals attended.
The conference which was organized by the neonatal team at University Hospital Galway, with special thanks to Neonatal Advanced Nurse Practitioners Jean James and Aine Binchy, provided an opportunity for the neonatal multidisciplinary team to meet face-to-face following the COVID-19 pandemic, and to share best practices, stay up to date on evidence-based practice, and learn new skills.
The conference featured speakers from the local, national, and international communities, covering a wide range of neonatal topics, which sparked a lot of questions and discussion. A number of skill stations organised and facilitated by the neonatal team, provided an excellent opportunity for delegates to update existing skill sets or consider bringing a new skill back to their respective neonatal units in order to improve and strengthen neonatal care provision.
Dr Hilary, Stokes, Saolta Director of Paediatrics said, "The Neonatal Conference showcased a great standard of specialised presentations and a day of real educational value. It was a great networking opportunity and really good to see cross discipline engagement and attendance from across the country."
Photo captions
NSDC 1 from left, Jean James, Registered Advanced Nurse Practitioner, Neonatology; Dr Johannes Letshwiti, Consultant Neonatologist and Neonatal Lead; Dr Ethel Ryan, Consultant Neonatologist and Paediatrician, UHG and Dr Donough O Donovan, Consultant Neonatologist and Paediatrician, UHG.
NSDC 2 from left, Dr Hilary Stokes, Saolta Director of Paediatrics and Neonatology; Aine Binchy, Registered Advanced Nurse Practitioner Neonatology; Peter Conneely, Medical Physics and Bioengineering.
NSDC 3 from left, Helen Murphy, Director of Midwifery, UHG and Sharon Hynes, Clinical Nurse Manager 1, Neonatology.
The article above is specific to the following Saolta hospitals::
University Hospital Galway (UHG)