You are here
Saolta Group 'Get a vaccine, give a vaccine' campaign enables UNICEF to purchase 36,910 polio vaccines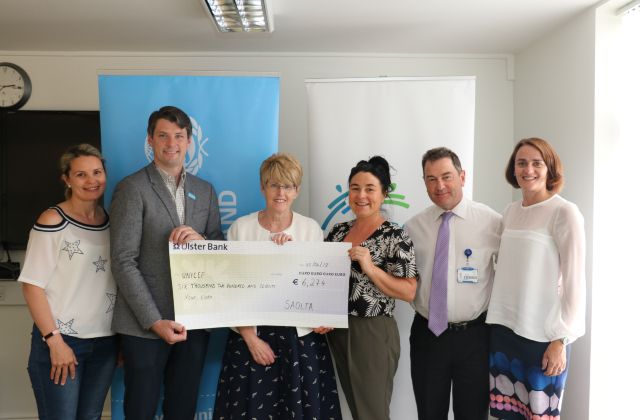 Last October Saolta University Health Care Group and Community Healthcare West together with the College of Medicine, Nursing and Health Sciences NUI Galway partnered with UNICEF as part of a promotional flu campaign for staff 'Get a vaccine, give a vaccine' which meant that for every flu vaccine given to a staff member, 10 polio vaccines were donated to UNICEF.
On 26 June, Saolta University Health Care Group were delighted to present a cheque for €6,274 to UNICEF to facilitate the purchase of 36,910 polio vaccines.  This donation will assist UNICEF with their global effort to eradicate polio in three countries (Afghanistan, Pakistan and Nigeria).
John Shaughnessy, Director of HR, Saolta University Health Care Group said, "Saolta were delighted to partner with UNICEF this year and support them in their efforts to eradicate polio.
A total of 3,691 health care workers (37.1%) in the Saolta group received their flu vaccine in 2017/2018. This figure reflects a 50% improvement on last year's uptake rates of 24% with Roscommon University Hospital, Portiuncula University Hospital and Mayo University Hospital achieving a staff uptake rate of greater than 40%.
"I would like to thank all our staff who protected themselves, their loved ones and their patients against influenza by getting the flu vaccine.
"I also recognise that the endorsement of campaign by the General Managers of the hospitals has played a significant part in the improvement of the vaccine uptake. Finally, I acknowledge the work of the various teams involved in this vital prevention programme and the dedication of all the Occupational Health staff and Peer Vaccinators who delivered the vaccinations."
Photo caption:
Anne Healy, Occupational Health, GUH; Owen Buckley, UNICEF; Jean Kelly, I/Chief Director of Nursing/Midwifery, Saolta Group; Pamela Normoyle, Flu Vaccine Lead, Saolta Group; John Shaughnessy, Director of HR, Saolta Group and Dr Aine McNamara, Consultant in Public Health Medicine, HSE.
The article above is specific to the following Saolta hospitals::