You are here
RUH officially opens new Blood Sciences Project and Refurbishment of Laboratory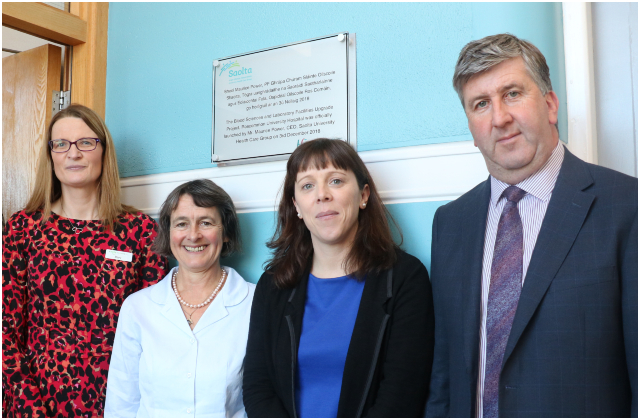 The new Integrated Blood Sciences Project at the Laboratory in Roscommon University Hospital was officially opened today, Monday 03 December 2018 by Maurice Power, Group CEO Saolta University Health Care Group.
The Blood Sciences Managed Service Contract is a major collaborative project between the Pathology Departments at Roscommon University Hospital, Galway University Hospital and Portiuncula University Hospital. This project will allow the laboratory in RUH undertake tests that would have previously gone to other hospital laboratories and reduces the length of time for patients test results.
Commenting at the launch, Mary Garvey, General Manager, Roscommon University Hospital said, "The Saolta Group rolled out this project initially in Letterkenny and Sligo University Hospitals' and then extended it to Roscommon, Galway and Portiuncula University Hospitals'. We now have a managed service contract with Roche Diagnostics which has provided us with a full suite of new equipment for Haematology and Biochemistry services. 
"Among the many benefits that this project brings is that the three laboratories in Roscommon, Portiuncula and Galway University Hospitals' now use the same platforms for analysis which gives the opportunity for further co-operation between the hospitals.
"Our laboratory here in RUH has undergone major renovations with new equipment installed and validated in Biochemistry and Haematology. This new facility will now allow us to continue to expand our test menu and radically improve the quality of service for clinicians and ultimately for our patients.
"The final part of the project went live in September 2018 and I am so grateful to the members of the Saolta Executive for supporting this initiative, and also to the Project Team and the staff here in the Laboratory in RUH for all their hard work in successfully implementing this project."
Maurice Power, CEO, Saolta University Health Care Group said, "This project is another example of how hospitals within the Saolta Group can work together to provide a better service to our patients, improve efficiencies and achieve major cost savings. Roscommon University Hospital goes from strength to strength. The modernisation of the laboratory alongside the replacement of the x-ray equipment gives Roscommon University Hospital scope to further develop as a centre of excellence for diagnostics."
Photo caption
Pictured at the official opening of the Blood Sciences Project and Refurbishment of Laboratory by Saolta Group CEO Maurice Power, from left: Mary Garvey, General Manager, Roscommon University Hospital; Professor Margaret Murray, Clinical Director, Laboratory Directorate, Saolta University Health Care Group; Denise Lally, Chief Medical Scientist, Roscommon University Hospital and Maurice Power, CEO, Saolta University Health Care Group.
The article above is specific to the following Saolta hospitals::
Roscommon University Hospital (RUH)