You are here
Roscommon University Hospital awarded Gold Happy Heart Award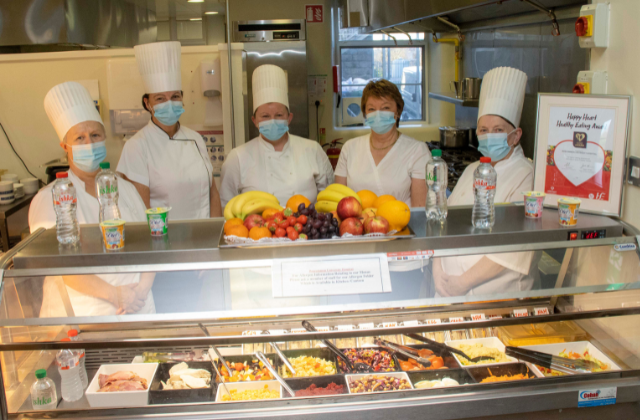 The Irish Heart Foundation has awarded the Gold Happy Heart Award to Roscommon University Hospital in recognition of the ongoing work at the hospital to promote healthy eating in the workplace.
Patricia Rogers, Catering Manager at the hospital explains, "The aim of the awards program is to assist workplace restaurants to adopt healthier cooking practices and provide healthier food choices. They highlight the important role that caterers play in nutritional health and in the prevention of heart disease, stroke and obesity.
"We were absolutely delighted when we received the Gold Happy Heart award. This award recognises the commitment and hard work of Roscommon University Hospital to ensure that the food and menus in the staff restaurant meet the Healthy Eating Guidelines set out by the Irish Heart Foundation and the Department of Health. There are strict criteria set out for us to follow in order to be able to apply for the award and our catering department was assessed by an independent dietician. The assessment looked at the overall food choice, service counter layout, food preparation practices, calorie posting, portion sizes and measures taken to reduce fat, sugar and salt and increase fibre fruit and vegetables. We use fresh produce and all our sauces are served on the side. Our aim is to enable staff make healthier choices and recognise the benefits of healthy eating.
"Other healthy changes include providing a daily salad bar to expand healthy options for staff, three chip free days and happy heart healthy eating surveys which we found very beneficial.
"The award is not about calories or dieting but rather raising the awareness of good healthy food to promote long term good health and a happier and healthier workforce."
Mary Garvey, Hospital Manager welcomed the award stating, "This award recognises the commitment and hard work of the Catering Staff in Roscommon University Hospital in ensuring that food menus in the restaurant meet the recommended guidelines set out by the Irish Heart Foundation and The Department of Health. The mission of this hospital is to deliver health with care and we endeavour to do this by promoting healthy lifestyles including a healthy diet for patients and staff."  Ms Garvey concluded by congratulating all staff involved for their ongoing commitment and dedication which culminated in receiving this award.
The article above is specific to the following Saolta hospitals::
Roscommon University Hospital (RUH)