You are here
Roscommon Injury Unit appoints second Registered Advanced Nurse Practitioner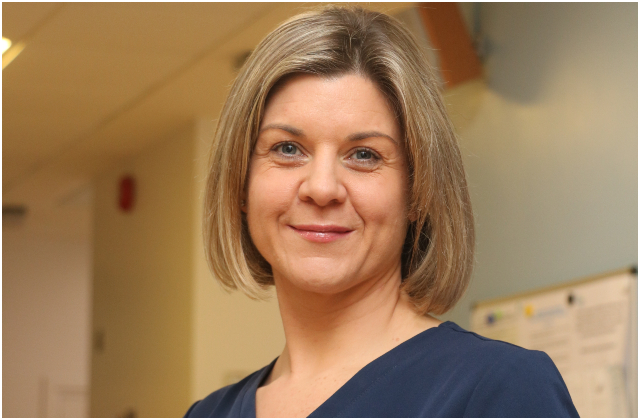 Nadia Finneran, a native of Roscommon Town has become the second Registered Advanced Nurse Practitioner (RANP) in Emergency Nursing at Roscommon Injury Unit which is located in the Urgent Care Centre at Roscommon University Hospital.
RANPs are the highest level of clinical experts in the nursing profession in Ireland today.
After qualifying from NUI Galway as a general nurse in 2000, Nadia started working at Roscommon University Hospital. Since then she has gained vast experience in general medical and surgical nursing at the hospital. In 2013 Nadia joined the Injury Unit team as Clinical Nurse Manager and her keen interest in dealing with injuries inspired her to train as an Advanced Nurse Practitioner.
Nadia said, "I was very interested in studying to become an RANP because the role allows me to develop clinically as an independent, autonomous practitioner and strive for continuous improvement in practices for the benefit of patients."
Nadia undertook a two year Masters in Emergency Nursing in NUI Galway and was awarded first-class honours in 2018.  Following this she went on to complete a Post Graduate Diploma in Advanced Practice. She submitted her portfolio to the Nursing and Midwifery Board of Ireland and was awarded RANP status on 24 October 2019 and was officially appointed as an RANP to the Injury Unit on 10 February 2020.
Injury Units are locally based services treating minor injuries and are an alternative to the Emergency Department (ED) for a number of injuries and conditions.
Roscommon Injury Unit activity has been consistently growing and in 2019 the unit treated 7642 patients, which is a 50% increase since 2016.  
Nadia explains, "Patients coming to Roscommon Injury Unit are generally seen within the hour. Patients can either self-refer or get a GP referral.  I am qualified to diagnose and treat a wide range of injuries for both adults and children over five years old, injuries from shoulder to finger and from knee to toe effectively. Essentially I deal with non-life or non-limb threatening injuries and non-complex, minor soft-tissue injuries, such as sprains, strains, suspected broken bones in arms or legs, minor scalds, burns or cuts and lacerations.
"I also see and treat patients with eye injuries, along with sports injuries such as hand injuries, ankle injuries and fractures and I can refer patients to other specialist services if warranted such as Orthopaedics, Plastics, Ophthalmology, ENT, Physio, Occupational Therapy, Frailty Team.
"Ultimately the patient will benefit from a more holistic approach. From the moment they arrive until they are discharged or referred, as an RANP, I look after them, assess their injury, request x-ray or other interventions, prescribe pain relief or tetanus, suture wounds and provide discharge advice."
Mary Garvey, General Manager said, "I am delighted to welcome Nadia to her new role in the Injury Unit.  The appointment of a second Registered Advanced Nurse Practitioner in Emergency Nursing is a significant development for our service. We will also shortly be appointing another staff member who is on the pathway to qualification as an RANP.
"We would encourage people to avail of the services in the Injury Unit, where appropriate, instead of attending an Emergency Department in another hospital."
Roscommon Injury Unit is open 365 days a year from 8am to 8pm and serves patients in the vicinity of Roscommon, East Galway, Westmeath, South East Mayo, Longford, South Leitrim and South Sligo.
If you have a full medical card or valid medical/GP referral letter there is no charge for attending an Injury Unit. For non-medical card holders or self-referral the fee is now €75.
Further information on Roscommon Injury Unit and the conditions that are treated is available from saolta.ie/hospital/ruh
The article above is specific to the following Saolta hospitals::
Roscommon University Hospital (RUH)