You are here
Reduction in number of visitors to Portiuncula University Hospital can help protect vulnerable patients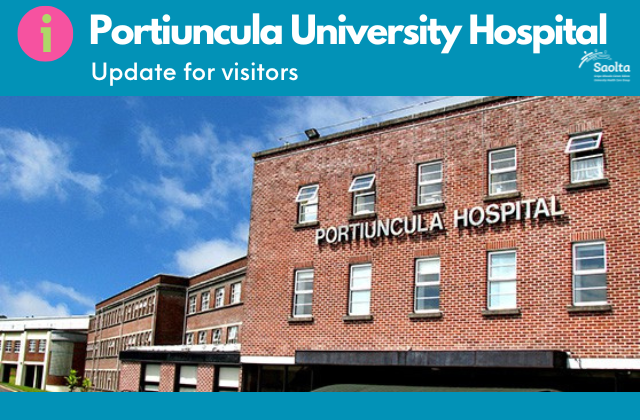 Portiuncula University Hospital (PUH) has asked families and loved ones of inpatients at the hospital to ensure that numbers of visitors are kept to a minimum in order to minimise the exposure of vulnerable patients to viruses.
The hospital has also reminded visitors that mask wearing is mandatory in all areas of the hospital. This is to protect patients and staff.
James Keane, Hospital Manager said, "There are significant levels of flu, Norovirus and COVID-19 in the wider community and we are very concerned about the risk to vulnerable patients of unrestricted numbers of people visiting the hospital. We therefore need to limit the number of individual visitors per patient to a maximum of two per day and we are asking families and loved ones for their cooperation in this regard. Visiting hours are strictly 2pm to 4pm and 6pm to 8pm in the main wards.
"We know that limiting visits is not easy for patients and their families. However, this measure is being taken in order to protect our patients, many of whom are already very ill. We need to be vigilant in order to stop the spread of COVID-19, flu and other infections in our hospital and we are appealing to our community to help us.
It is vital that visitors follow the mask wearing guidelines. Again, this is to minimise sick and vulnerable patients to the risk of been exposed to the flu, Norovirus and COVID-19.
"People with recent symptoms of COVID-19, Norovirus or flu are asked not to visit the hospital. We are also appealing to people not to visit the hospital if they have had contact with individuals with these symptoms. We would like to thank members of the public for their cooperation in helping to protect sick and vulnerable patients."
The article above is specific to the following Saolta hospitals::
Portiuncula University Hospital (PUH)