You are here
Radiotherapy Department, UHG supports Christmas Shoebox Appeal 2018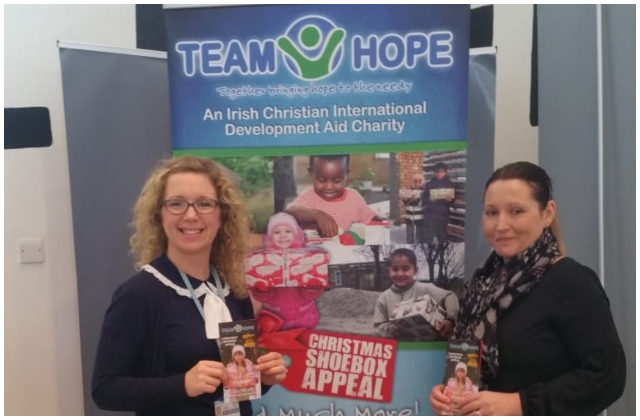 The Radiotherapy Department at University Hospital Galway in conjunction with TEAM HOPE are supporting the Christmas Shoebox Appeal 2018.
TEAM HOPE is an Irish Charity working with children and through them, into their families and communities mainly across Eastern Europe, former Soviet Union and Africa.
June Barrett, Senior Dietitian explains, "With this well established initiative we hope to encourage our colleagues here in University Hospital Galway and Merlin Park University Hospital to donate gift-filled shoeboxes for children from some of the poorest regions of the world. Last year TEAM HOPE sent 264,636 shoeboxes to children across Eastern Europe and Sub-Saharan Africa; 14,573 of those boxes came from Galway.  We would like you to join us in supporting TEAM HOPE this year and donate to the Christmas shoebox appeal 2018. All shoeboxes should be dropped to the switch board office, ground floor of the main hospital between the 12-16 November. The shoeboxes will be collected by a member of TEAM HOPE.  I would like to thank Angela Rowan, Communications Officer for facilitating our drop off location at the switch board office and to Ray Clarke from Team Hope for helping us promote the cause in the hospital."
Gifts for inclusion should be:
To write – Items for school – like a pen, pencil, copy book, paper, colouring book, felt pens, sharpener, eraser, solar calculator.
To wash – Some hygiene items – toothbrush and toothpaste, soap (wrapped please), facecloth, hairbrush, comb.
To wear – Small clothing items – a hat, scarf, gloves, socks or underwear
WOW ! – A treat – sunglasses, game, small Irish gift, a photo of yourself, sweets (must be in date until at least March 2019), make up, a small musical instrument, toys like a doll, a car, cuddly toy, skipping rope, yo-yo, a finger puppet… even a ball is fantastic.
Not for inclusion:
Food (apart from sweets), chocolate, medicines of any kind, war related items, large clothing items, anything breakable, any liquids that could spill or freeze, sharp items, scary things (like halloween stuff, or skull and crossbones or books with words).
All you need to do is:
Grab a Shoebox or a plastic container and wrap the box and lid separately with Christmas paper
Print Label (or use boy/girl sticker from leaflet) and choose who you want to give your Christmas Shoebox to and what age. Leaflets are available from outside the canteen, nurses home.
Fill the box; get as creative as you like.
Close the box with an elastic band - don't seal with tape as contents have to be checked to comply with regulations. Include €4 in an envelope (either on top of the gifts or taped to the inside of the lid) or donate your €4 on our secure on-line site.
Drop off is to the switch board office, ground floor of the main hospital (across from post room), University Hospital Galway.
If you would like information on how to take part visit https://www.teamhope.ie/christmas-shoebox-appeal/fill-a-box/ or contact June Barrett (june.barrett@hse.ie) or Laura Connolly (laura.connolly4@hse.ie).
Photo: R:L - June Barrett, Senior Dietitian and Laura Connolly, Data Base Manager, Radiotherapy Department, UHG.
The article above is specific to the following Saolta hospitals::
University Hospital Galway (UHG)