You are here
Portiuncula University Hospital one of three hospitals nationally to participate in new hand hygiene awareness programme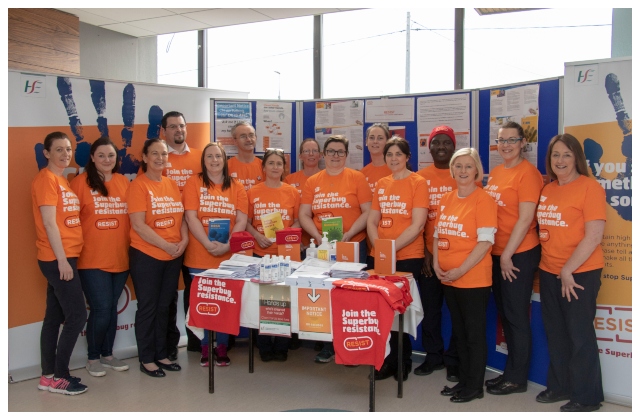 Portiuncula University Hospital is one of three hospitals nationally to participate in the HSE's Hand Hygiene Train the Trainer and hand hygiene awareness programme (Resist) which is aimed at all healthcare workers and everyone who comes to the hospital.
Resist is a new health service initiative to reduce infection and antimicrobial resistance in our health facilities.  It is being introduced in hospitals and community services all over the country, backed by the HSE Antimicrobial Resistance and Infection Control programme (AMRIC). The message for hospital staff is that cleaning your hands properly at the right time is one of the simplest things you can do to save you, your family and your co-workers from becoming ill and reducing the spread of illnesses such as tummy bugs, coughs, colds, and even superbugs. 
Commenting James Keane General Manager Portiuncula University Hospital said, "Everyone in Portiuncula University Hospital is committed to reducing the spread of infection. We are delighted to be part of this new HSE awareness programme, Resist which will further highlight the importance of hand hygiene thoroughly to prevent the spread of infection and protect patients, visitors and staff".
Helen Lemass, Clinical Nurse Specialist in Infection Prevention and Control at Portiuncula University Hospital added, "Our staff are all committed to taking part in this new hand hygiene training and joining the Superbug Resistance to fight infection. Some infections found in hospitals can be very serious for our patients.  Both patients and visitors have an important role to play in reducing the spread of infection in the hospital and good hand hygiene is one of the easiest ways to do that.
"There are things you can do to protect yourself from picking up an infection or superbug while you are in or visiting hospital:
Clean your hands regularly and use the alcohol gel in the hospital.
Always clean your hands  after you go to the toilet and before you eat
Do not share your personal things with other patients – for example, your phone, your earphones, and so on
Keep away from other patients' beds
Do not let anyone sit on your bed, and don't sit on another patient's bed
It's OK to remind staff to clean their hands
It's OK to tell a staff member if you see anything that is not clean".
Concluding Professor Martin Cormican, HSE National Lead for Antibiotic Resistance added, "Proper hand hygiene is such a critical issue for all of us both at home and in our health services. We are delighted that we are launching our first three sites for the new programme which include Cavan General Hospital, Portiuncula University Hospital, Ballinasloe and University Hospital Limerick. This hand hygiene awareness programme is an important part of the HSE's work with the Department of Health to progress Irelands National Action Plan on Antimicrobial Resistance."
Are you washing your hands correctly? Let the staff at Portiuncula University Hospital show you how https://youtu.be/gNUyKTbNlv8
The article above is specific to the following Saolta hospitals::
Portiuncula University Hospital (PUH)