You are here
Portiuncula University Hospital Offers Advice and Support for National Breastfeeding Week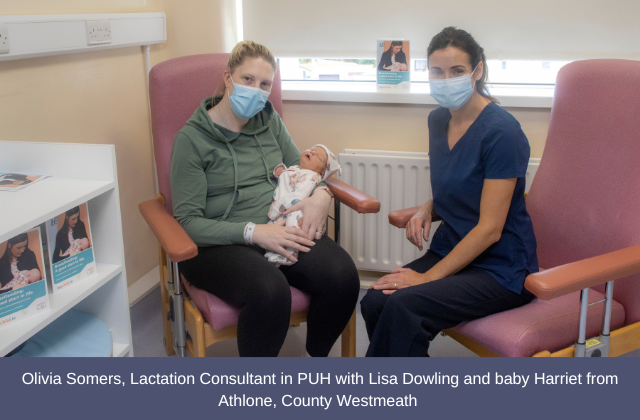 National Breastfeeding Week runs from 01-07 October and it's a great opportunity to promote the importance of breastfeeding and the many positive health benefits it provides for both mother and baby. It's also an opportunity to provide information on breastfeeding supports and to let parents and parents-to-be know where they can access this information and support.
This year's theme is 'Expert help for every step of the way' and Olivia Somers, Lactation Consultant at Portiuncula University Hospital said, "Breastfeeding gives babies the best start for a healthy life and it protects both mum and baby.  It is the optimal source of nutrition for newborn infants. Breastfeeding is a learned skill acquired through education, observation and experience. While it is the most natural way to feed babies it's also a skill that mum and baby learn during the early days and weeks. Many breastfeeding mothers need ongoing support to continue breastfeeding and it's important that they know expert help is available to them every step of the way on their breastfeeding journey.
"Knowing what to expect in the early days of breastfeeding is key. This knowledge can be learnt prior to baby's arrival by attending our 'Preparing to Breastfeed Workshops' which are held twice a month and can be booked online at www.puhmaternity.ie
"A walk-in support group meeting is held on the second Thursday of every month from 10am to 11.30am in room 6 of the education centre, Portiuncula University Hospital. 
"Virtual support clinics are hosted twice a month on Wednesdays from 10am to 11am where mothers can access from the comfort of their own home to seek help and support from the Lactation Consultant. Times and details are available to mothers when they are leaving hospital and booking is available online at www.puhmaternity.ie
"Ask the expert - live chat and e-mail support service which provides access to a breastfeeding expert is also available on www.mychild.ie 7 days a week. This is an excellent resource for women at every stage of their breastfeeding journey. 
Photo Caption:
Marking National Breastfeeding Week at Portiuncula University Hospital is Olivia Somers, Lactation Consultant with Lisa Dowling and baby Harriet from Athlone, County Westmeath.
The article above is specific to the following Saolta hospitals::
Portiuncula University Hospital (PUH)