You are here
Portiuncula University Hospital launch colostrum harvesting packs during National Breastfeeding Week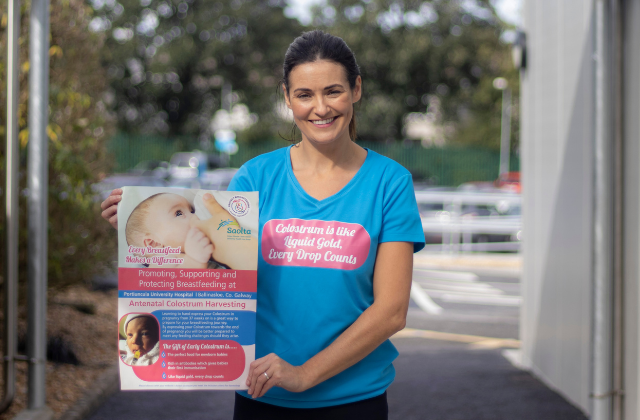 During National Breastfeeding Week, the Maternity Department at Portiuncula University Hospital launched an Antenatal Expressing of Colostrum information leaflet and accompanying Colostrum or 'Liquid Gold' Harvesting Packs for pregnant women.
This new initiative is being lead out by Olivia Somers, Lactation Consultant at Portiuncula University Hospital. She said, "I am confident that this initiative will be a game changer in helping women to successfully exclusively breastfeed their babies. Learning to hand express colostrum from 37 weeks on in pregnancy is a great way for mums-to-be to prepare for their breastfeeding journey. By expressing their colostrum towards the end of their pregnancy they will be better prepared to meet any feeding challenges should they arise.
"Colostrum is often referred to as liquid gold. It is a fluid which is produced by the breasts from about 18 weeks of pregnancy and during the first few days after the birth. It is the perfect food for new-born babies. It is rich in antibodies which gives babies their first immunisation.  It is low in volume but high in energy, it is very concentrated containing lots of protective properties to give all babies the best start in life that they deserve. The amount will vary from a few drops to a teaspoon but this small amount is perfect for your baby. It really is liquid gold, every golden drop counts!
"In Portiuncula, we believe that empowering, enabling, supporting and protecting women's breastfeeding journey is of the upmost importance. We recommend that you discuss harvesting colostrum with your obstetric team and we have a new leaflet on harvesting colostrum has lots of information for mums-to-be. The leaflet also includes a QR code to link to a short video on how to hand express which is a learned skill which takes time to master. Practice and patience are a pre requisite along with warm compress and massage!
"I also recommend that women attend the Antenatal Preparing to Breastfeed Workshop which takes place virtually so women can log in from the comfort of their own homes. During the workshop, women learn the skill of hand expressing along with what to expect in the first few days and weeks after birth. I find once women are aware of the norms of breastfeeding in the early days, it reassures them and gives them the confidence in their own ability to successfully breastfeed their own baby. At the workshop we cover the benefits of breastfeeding, the importance of skin to skin contact, establishing a good milk supply by stimulation early and often, the importance of correct position and attachment and ways of protecting the milk supply if baby is unable to latch. These classes are available online and can be booked at puhmaternity.ie. You'll also find lots of videos and other advice on preparing to breastfeed at mychild.ie."
Photo caption
Olivia Somers, Lactation Consultant, Portiuncula University Hospital.
The article above is specific to the following Saolta hospitals::
Portiuncula University Hospital (PUH)