You are here
Portiuncula University Hospital celebrates the Hospice Friendly Hospitals Programme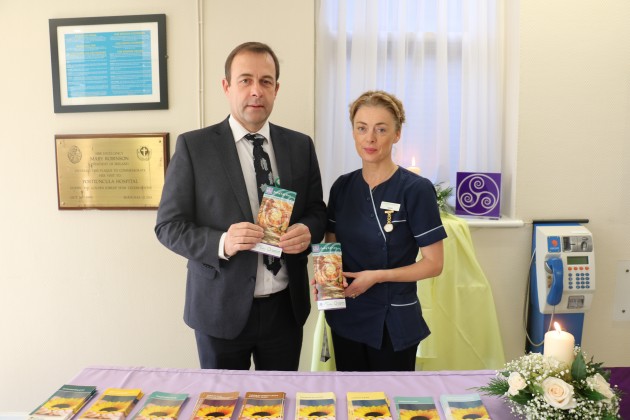 Portiuncula University Hospital has this week, hosted an Information Campaign on End of Life Care in the main hospital reception area. This campaign aims to promote and celebrate the work and progress on End of Life Care in the hospital.
Commenting James Keane, General Manager PUH said, "Portiuncula University Hospital became affiliated with the Hospice Friendly Hospitals Programme in 2015 and the overall purpose of this programme is to ensure that end of life care is central to the mission and everyday business of hospitals. PUH has been a leader in implementing the values of End of Life Care since its inception and the hospital continues to be guided by the Quality Standards for End of Life Care in Hospitals".
Helen Ely, Clinical Nurse Specialist in Palliative Care at Portiuncula University Hospital added, "The Hospice  Friendly promotes high quality care for all people at the end of life regardless of diagnosis and whether the death is expected or sudden, and it acknowledges the role of clinical, administrative and support staff in improving the patient's and family's experience. Some of the developments that have taken place in PUH include; the establishment of End of Life Care committee, the establishment of the Perinatal Bereavement committee, the refurbishment of the family room Slí an Chroí, as part of the Design and Dignity project and the refurbishment of the quiet room in the Maternity Unit.  We are continuing to implement the National Standards in Bereavement Care following Pregnancy Loss and Perinatal Death.
"We have also developed an information leaflet on End of Life Care in PUH and we designed a sympathy card which is sent to all bereaved families on behalf of the hospital. We also provide on-going education and training programmes for staff and hold an annual remembrance service for those who have died in PUH".
Photo: Helen Ely, Clinical Nurse Specialist in Palliative Care with James Keane, General Manager, Portiuncula University Hospital. 
The article above is specific to the following Saolta hospitals::
Portiuncula University Hospital (PUH)