You are here
Official Opening of 'Solas Beag' Family Bereavement Room at SUH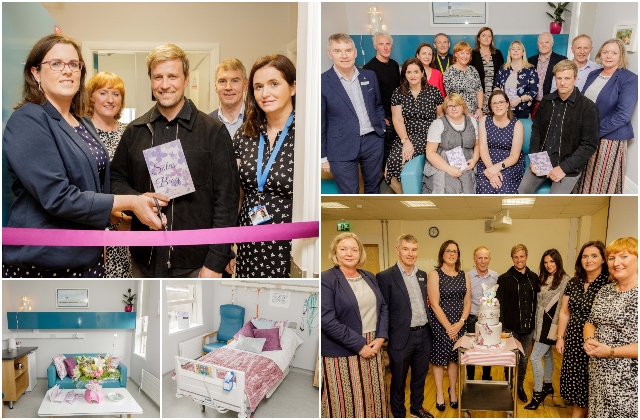 Sligo University Hospital has officially opened the 'Solas Beag' family bereavement room in the Maternity Department. The room is dedicated to all the parents and family members who have experienced pregnancy or perinatal loss.
Maria White, Bereavement Support Midwife at Sligo University Hospital explains, "Normally maternity wards can be very happy places but this is not always this case. Sadly, every year there are families who experience devastating, life-changing news. These families need care and attention and we identified a quiet two-bedded room on the ward which we converted into a family suite with a bed and sofa bed where partners can stay along with an en-suite toilet and shower. The room also has a fridge and tea/coffee making facilities. We decorated the room in soothing colours and local artists have donated artwork created specifically for the room.
"We followed the national standards for bereavement care following pregnancy loss and perinatal death and we involved parents who had suffered bereavement in the design of the room so that we could incorporate the needs of those with first-hand experience. Work on the project started at the end of March and the room has been in use since the end of April."
Juliana Henry, Director of Midwifery at Sligo University Hospital added, "Making the 'Solas Beag' a reality required a huge fundraising effort which started with a donation from a family in memory of Zoe and Anna. With the help of the Friends of Sligo University Hospital; our staff; voluntary groups including the Innisfree Wheelers, Grange AC and Coolaney Gospel Choir; organisations including the Radisson Hotel and County Sligo Golf Club; and huge support from past patients and the wider community, we were able to raise €28,700 to date. This included a single donation of €7,300 from Regina Higgins who ran the women's mini-marathon with her sister in law in memory of her baby son Jake who would have been 10 years old this year. In addition, Kian Egan from Westlife donated four tickets to their homecoming concert in Croke Park, which were raffled."
The 'Solas Beag' family bereavement room was officially opened by Kian Egan and Regina Higgins.
Grainne McCann, General Manager, Sligo University Hospital added, "The feedback from parents and families who have spent time in 'Solas Beag' has confirmed the benefit of a space for parents and families to be together to grieve and support each other at such a tragic time. Everything in the room is designed to comfort parents. It would not have been possible without the incredible generosity of so many people who gave time and energy to raise the money needed to make this a reality. We are extremely grateful to our local community for their ongoing support."
The article above is specific to the following Saolta hospitals::
Sligo University Hospital (SUH)