You are here
Norovirus outbreak at University Hospital Galway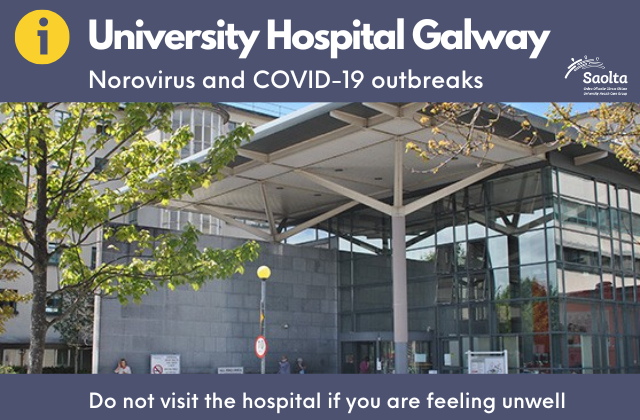 Due to an outbreak of the winter vomiting bug (Norovirus) in the hospital and a high level of COVID-19 and flu cases, University Hospital Galway is appealing to the public not to visit the hospital if they are feeling unwell or have respiratory symptoms.
The hospital is currently dealing with a Norovirus outbreak in one ward with one ward closed due to COVID-19 and 4 additional wards impacted with COVID-19.  The number of patients with flu within the hospital is also increasing as reflected in the wider community.
Visitors to the affected wards will be facilitated on compassionate grounds, on an exceptional basis only. To arrange a visit on compassionate grounds, please contact the ward manager in advance.
Chris Kane, Hospital Manager said, "We appreciate that restricting visiting at this time of year is difficult for patients and their families. However, we must take every measure we can to protect our patients, many of whom are already very ill.
"We need to do everything we can to stop the spread of the winter vomiting bug, flu and COVID-19 in our hospital and we are appealing to our community to help us do this. "
Anyone with flu like symptoms and those with recent symptoms of diarrohea and/or vomiting is asked not to visit the hospital. We are also appealing to the public not to visit the hospital if they have had contact with people with these symptoms. These measures are vital to avoid spreading the virus to sick vulnerable patients.
To minimise your risk of catching an infection while visiting, please do the following -
If you have any symptoms (respiratory or diarrhoea/vomiting), you should not come to visit until all symptoms are fully resolved for at least 48 hours.
Clean your hands with alcohol gel if visibly clean or soap and water after using toilet or visibly soiled hands
Surgical mask - clean hands before putting on a new one before visiting patients; this should be discarded on leaving the hospital and hands cleaned.
Please do not use patient toilets on the wards or en-suites; visitor toilets are available at ground floor level.
The hospital would like to thank members of the public for their co-operation.
It is not too late to get your flu vaccination and the HSE is urging people in high-risk groups to get vaccinated. The best way to avoid getting the flu is to get vaccinated.
The article above is specific to the following Saolta hospitals::
University Hospital Galway (UHG)