You are here
New Wellness Walkway at Mayo University Hospital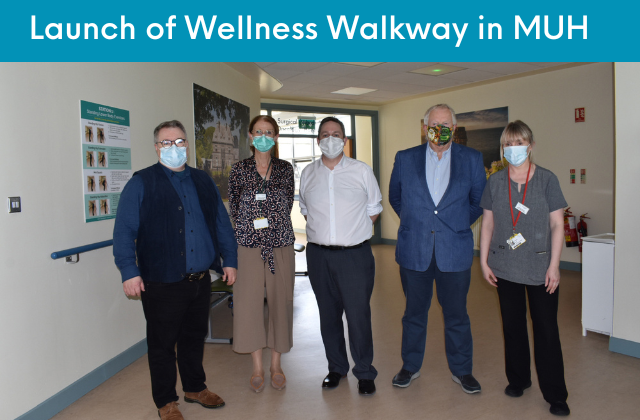 A new Wellness Walkway at Mayo University Hospital was officially launched last week by Prof Brian Dolan OBE.
The walkway, which is located on the first floor of the hospital, aims to promote the health and wellbeing of patients during their recovery from illness and injury. The walkway is 130m long with exercise stations and seated areas to allow patients get away from the busy ward environment.
Caitriona Davey, Clinical Nurse Manager 3 and Wellness Walkway Project Team member said, "We have designed the walkway to support patients to remain active during their hospital stay and we have exercise stations designed by physiotherapists at intervals along the walk with wall panels illustrating different lower and upper body exercises.
"We know from research how important it is for patients to stay mobile while in hospital. We have implemented the national 'Get Up, Get Dressed, Get Moving' campaign in the hospital and to complement this, the new Wellness Walkway provides a protected space for patients to keep moving to prevent loss of muscle, strength and fitness.
"The walkway also has a continuous handrail to improve the experience for those who might need support when walking. Around the seated areas we have added 15 large scale photographs of iconic locations in Mayo including Achill Island, Blacksod Lighthouse, Lough Lannagh and Tourmakeady Waterfall, where patients can sit alone or in the company of others to help reduce anxiety associated with a hospital stay.
"Along the route the signage, clocks and furniture were selected in line with 'Dementia Friendly Hospitals Universal Design Approach' principles to provide patients with symptoms of dementia and their families/carers with a designated and stimulating space outside of the ward."
Catherine Donohoe, Hospital Manager said, "We were delighted to welcome Prof Brian Dolan OBE to the hospital to launch our Wellness Walkway. Prof Dolan, who is originally from County Mayo, created the NHS campaign 'End PJ Paralysis' which has been adapted by hospitals around the world, including here in Ireland as 'Get Up, Get Dressed, Get Moving'. It is extremely fitting that Prof Dolan joined us to launch an initiative which provides a designated space for patients to keep active, reduce muscle deconditioning and support cognitive function and social interaction.
"A huge amount of planning went into creating the walkway to help enhance our patients' hospital experience and to maintain their physical and mental wellbeing. We are extremely grateful for the valuable input from one of our patient experience advisors who was able to provide a lived-experience of a hospital stay and insight into patients' needs, as part of the design process."
Speaking about the initiative, Prof Dolan said, "When patients get themselves up, dressed and moving while in hospital, something magical often happens; they start to see themselves as being on the mend and the evidence is clear, they get home sooner. I'm honoured to open this Wellness Walkway as it will give patients a place to go, and when they see the beauty of Mayo's landscapes presented to them, it will offer them a reminder that there's no ward like home. Congrats to the magnificent staff for creating something world class in improving patient's and loved ones experience, safety and wellbeing while in MUH."
The article above is specific to the following Saolta hospitals::
Mayo University Hospital (MUH)