You are here
New Robotic Surgery at University Hospital Galway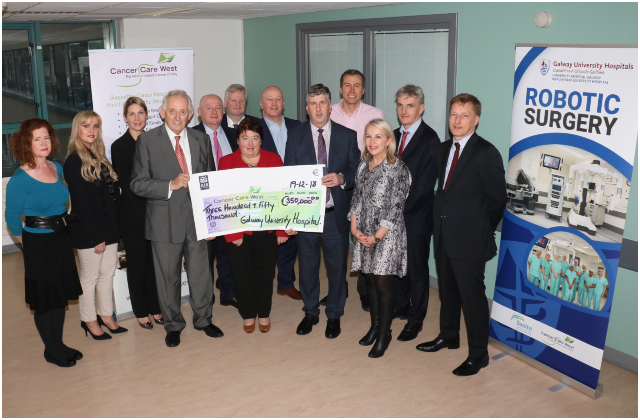 Saolta University Hospital Group in conjunction with Cancer Care West recently introduced Robotic Surgery at University Hospital Galway.
The surgical robot is currently being used by the urology team at the hospital and so far this year 60 men have had their prostate surgery undertaken by consultant urologists at the hospital using this new technology.
Commenting, Mr Paddy O'Malley, Consultant Urologist and Robotic Surgery Lead at University Hospital Galway said, "Robotic surgery represents the highest international standard of surgery worldwide and is the most advanced form of minimally invasive surgery available to patients.
"This use of this highly sensitive robotic tool with 3-D vision and improved magnification means that we as surgeons have even greater precision in our work. I, along with my colleagues Mr Garrett Durkan and Ms Catherine Dowling are delighted to be in a position to provide this type of high-tech surgery to our patients. It allow us greatly reduce the length of time our patients must spend in hospital for prostate surgery.
"It also means that there is less scarring and post-operative pain which allows patients resume their daily activities sooner and with less need for pain relief medications. A huge amount of work has gone into this project since the arrival and installation of the robot in June this year from training through to when the first case was performed."
Commenting Richard Flaherty, CEO Cancer Care West said, "As the West of Ireland cancer charity we are strongly committed to ensuring that the best treatments and services are made available to cancer patients in our region. We believe that the new surgical robot represents the future of surgical oncology and will lead to improved treatment and also help reduce the length of hospital stay for patients.
"Patient care is the central focus of our charity and we believe that our donation of €350,000, which helped bring this equipment to our public hospital, will greatly enhance the care provided to cancer patients in the West."
Commenting Chris Kane General Manager, Galway University Hospitals said, "UHG is a National Cancer Control Programme designated prostate cancer treatment centre and treats more men than any other single centre in the country. The provision of robotic surgery is the single biggest development for the treatment of prostate cancer since the programme began and I would like to acknowledge the generous contribution by Cancer Care West.
"It is projected that the team at University Hospital Galway will treat up to 150 men with robotic surgery for prostate cancer in the coming year. We hope that further specialties along with the urology service will be in a position in the future to provide robotic surgery for their patients."
Photo Caption
At the launch of Robotic Surgery at University Hospital Galway, Cancer Care West presented a cheque for €350,000 towards the cost of the equipment. From left: Mairead McGovern, Assistant Director of Nursing, Theatres; Genie Moran, CNM2, Robotic Service; Ms Catherine Dowling, Consultant Urologist; John McNamara, Chairman, Cancer Care West; Mr Paddy O'Malley, Consultant Urologist and Robotic Surgery Lead; Mr Eamonn Rogers, Consultant Urologist and National Urology Clinical Lead; Dr Helen Greally, Director of Support Services, Cancer Care West and National Clinical Lead for Psycho-Oncology, National Cancer Control Programme; Mr Garret Durkan, Consultant Urologist; Maurice Power, CEO, Saolta University Health Care Group; Richard Flaherty, CEO, Cancer Care West; Judith McLucas, Group Business Manager, Peri-Operative Directorate; Pat Nash, Chief Clinical Director, Saolta University Health Care Group and Dr Jerome Coffey, Director, National Cancer Control Programme.
The article above is specific to the following Saolta hospitals::
University Hospital Galway (UHG)