You are here
New Integrated Blood Sciences Department opens at Sligo University Hospital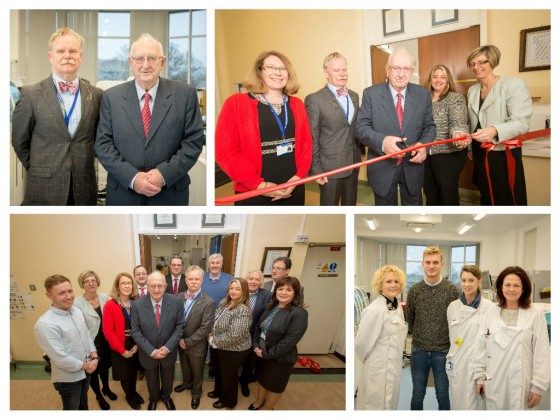 The new Integrated Blood Sciences Department at the Laboratory in Sligo University Hospital was officially opened on Monday February 27th 2017. The facility was formally opened by Michael O'Brien who was the first member of staff in the laboratory in SUH and who worked there for 25 years.
The Integrated Blood Science Department is a major collaborative project between the Pathology Departments at Sligo University Hospital and Letterkenny University Hospital.  
 
Commenting Grainne McCann, General Manager Sligo University Hospital said "The continuous drive for quality, responsive and efficient services was the reason we embarked on this project.   An inter hospital multidisciplinary blood science team was established to facilitate the project and an integrated automated system was developed. On both the Sligo and Letterkenny sites five laboratories, encompassing general biochemistry, haematology, coagulation, endocrinology and serology (blood sciences) are amalgamated into one blood science section: unified under a managed service contract and a modern Laboratory Information System.  The Department provides the most up to date technologies both in the analysis of and tracking of patient samples.
 
Michael O Brien who formally opening the Blood Sciences Department said, "I am delighted to open this new facility today. Over the years in Sligo General Hospital, now Sligo University Hospital, there has been a transformation in the techniques and technologies used in our laboratories. This new integrated blood sciences department brings state of the art technologies and process to Sligo".
 
Dr John Williams, Laboratory Manager stated that "By establishing this Managed Service Agreement with Roche Diagnostic we have modernised and streamlined our processes, integrated and consolidated the key processes while utilising the maximum amount of automated pre-analytical sampling handling.  The main analytical system allows to continue and expanding our test menu while mainlining the quality of our service and maximising resource utilisation.   This is all good news for our patients."
Concluding Grainne McCann added, "The implementation of this ambitious inter hospital project is a testimony to the cooperation between all involved. It demonstrates that through close collaboration with our colleagues in other hospitals we can provide improved services to our patients while making better use of our allocated resources". 
The article above is specific to the following Saolta hospitals::
Sligo University Hospital (SUH)