You are here
New Home First Team supporting older persons at Mayo University Hospital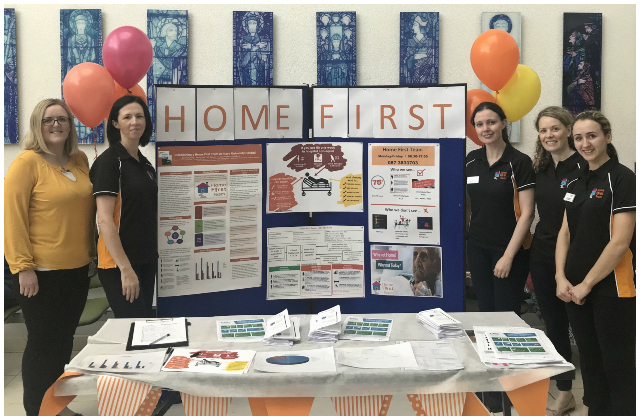 The Home First Team is a specialist team supporting patients over the age of 75 who are treated in the Emergency Department (ED) and the Acute Medical Assessment Unit (AMAU) in Mayo University Hospital.
The team meet and assess patients in the ED and AMAU to identify any needs that would delay them from leaving hospital after treatment, in order to minimise any delays. The team includes a Physiotherapist, an Occupational Therapist, a Medical Social Worker, a Clinical Pharmacist and a Clinical Nurse Manager.
Mairead O'Boyle, Clinical Nurse Manager 2 with the Home First Team explains, "The Home First Team evolved from the work which was commenced by the Frail Elderly Assessment Team in 2016. We are a specialist team whose role is to provide early assessment and intervention for older people by ensuring they receive high quality safe effective care and support for discharge home."
The Home First Team aims to:
Involve the patient in the decisions that affects them when they are leaving the hospital and ensure patients are supported to make fully informed decisions in all aspects of their healthcare both in hospital and upon leaving hospital.
Work with our colleagues in the community to support a plan for patients leaving hospital and identify patients who are suitable to attend the Integrated Day Hospital in Castlebar Primary Care Centre instead of having to return to the ED or AMAU. The Integrated Day Hospital is led by a consultant and multidisciplinary team that specialises in the care of older people.
Support elderly patients who are ready to leave hospital and go home and make sure that decisions made are focused on the patients' needs.
Catherine Donohoe, General Manager commented, "As our population ages it is important that we have greater supports in place to ease the journey through our hospital for our older patients. In particular we need to have a greater emphasis on working with our community colleagues and this is what the Home First Team in the hospital is aiming to achieve.
"Ensuring we have processes in the hospital and in particular in the Emergency Department to assist in meeting the needs of our older populating is a priority for the hospital and we really hope that this will significantly start to improve their experience. The Home First Team are very proactive and patient-centred and we are very proud of the work they have done to date."
Photo Caption:
At the launch day for the Home First Team in Mayo University Hospital, from left: Victoria McGuinness, Social Worker; Mairead O'Boyle, Clinical Nurse Manager 2; Denise Carthy, Occupational Therapist; Grainne Cafferty, Clinical Pharmacist and Aisling Bell, Physiotherapist.
The article above is specific to the following Saolta hospitals::
Mayo University Hospital (MUH)