You are here
New Consultant Vascular Surgeon appointed to Galway University Hospitals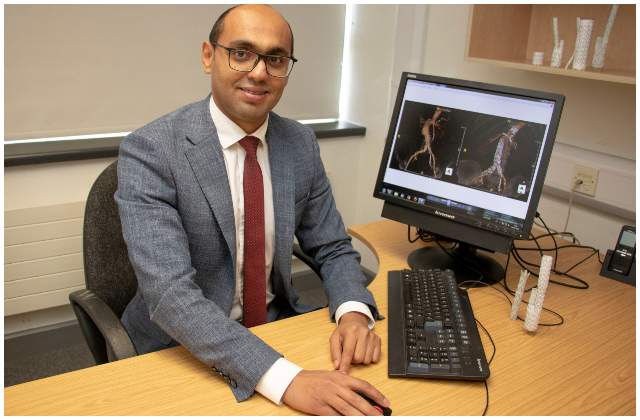 Last month, Mr Mahmoud Alawy was appointed as a Consultant Vascular Surgeon at Galway University Hospitals (GUH).
Of his appointment, Mr Alawy said, "Thanks to modern technology and minimally invasive surgery many advances have been made in the past decade in the treatment of aortic diseases, particular the treatment of aortic aneurysm.  An aneurysm occurs in the wall of a blood vessel due to weakness or degeneration of the artery wall and as it enlarges, it compromises the artery wall's ability to stretch and risks rupturing. I have a special interest in minimally invasive surgery techniques to treat aneurysms and other aortic problems. I am delighted to bring this expertise to Galway where I will be treating patients from the wide catchment area of the hospital. I have published research on aortic aneurysm, carotid surgery, vascular access and peripheral vascular disease."
Mr Alawy studied at the Ain Shams University in Cairo, Egypt with qualifications including an MBBCH in Surgery and Medicine (2004), Master of Science in General Surgery (2008) and an MD in General Surgery/Vascular Surgery subspecialty (2011).
In 2017, Mr Alawy graduated as a Fellow of the Royal College of Surgeons in Ireland. In the same year he attained honours in the Fellow of the European Board of Vascular Surgery awarded by the European Union of Medical Specialists (UEMS). In 2018, Mr Alawy joined the Specialist Register of the Irish Medical Council (IMC) in the specialty of Vascular Surgery which has been recognised as a new surgical specialty by the IMC due to an increase in the volume and complexity of vascular conditions and the development of new minimally invasive techniques.
Mr Alawy started his Vascular Surgery training in Cairo spending seven years in Ain Shams University Hospitals and Wadi El-Neel Hospital before commencing as a Vascular Surgery Registrar in Galway University Hospitals (2012-2015), Tallaght University Hospital (2015-2016) and St James's Hospital (2016-2018). From August 2018 he worked as a Senior Clinical Fellow at Guy's and St Thomas' NHS Foundation Trust, London for one year.
Ms Chris Kane, General Manager, GUH said of the new appointment, "We are very happy to welcome Mr Alawy back to Galway and to add his skills and experience to our Vascular Surgery Department where we see an increasing number of patients presenting with complex conditions requiring treatment."
The article above is specific to the following Saolta hospitals::
University Hospital Galway (UHG)