You are here
New Consultant Surgeon appointed to Galway University Hospitals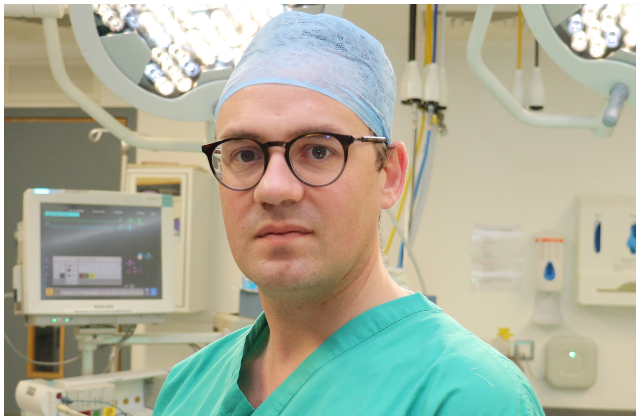 Mr Paul Carroll, Consultant Oesophagogastric and General Surgeon has recently been appointed to Galway University Hospitals (GUH).
Of the new appointment, General Manager of GUH, Ms Chris Kane said, "We are delighted to welcome Mr Carroll to Galway where his expertise in the latest surgical techniques will help us to continue to deliver high quality care and services to our patients as one of the largest teaching hospitals in the country."
Mr Carroll studied Medicine at University College Dublin, graduating in 2005 with honours followed by an MD in Trinity College Dublin, the University of Dublin, examining how obesity influences cancer. His higher surgical training from 2012 to 2017 focused on upper gastrointestinal diseases. For his Fellowship, he worked at the Princess Margaret Cancer Centre, Toronto, Canada which is one of the largest cancer centres in the world and at the Thoracic Surgery Division in Toronto General Hospital under the mentorship of Dr Gail Darling, Director of Thoracic Surgery Clinical Research.
Commenting on his appointment, Mr Carroll said, "My interests are management of Oesophageal and Gastric Malignancies using minimally invasive approaches including Thoracoscopic-Laparoscopic Oesophageal resections. These benefit patients by having less pain and recovering faster from open surgery approaches. I am also interested in the treatment of Barrett's Oesophagus and early cancers using endoscopic resection techniques to remove precancerous and early stage cancerous growths.
"I look forward to providing the very best of care and utilising the most advanced surgical techniques in the treatment of patients with oesophageal and gastric cancers from the catchment area of Galway University Hospitals and the Saolta Group."
Photo Caption:
Mr Paul Carroll, Consultant Oesophagogastric and General Surgeon, who has been recently appointed to Galway University Hospitals
The article above is specific to the following Saolta hospitals::
University Hospital Galway (UHG)