You are here
New Consultant Neonatologist appointed to Galway University Hospitals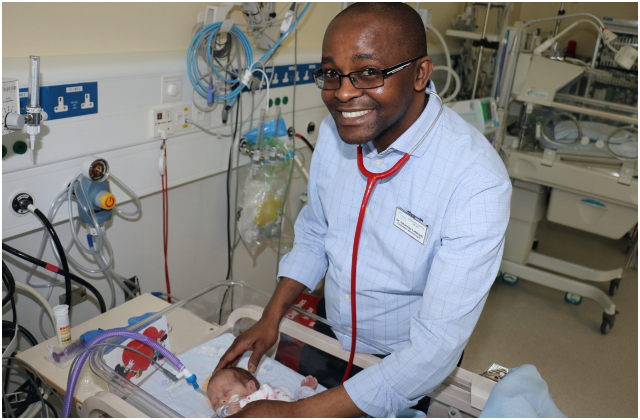 Dr Johannes Buca Letshwiti has recently been appointed as a Consultant Neonatologist at Galway University Hospitals (GUH).
Of his appointment, Dr Letshwiti commented, "I'm excited about the prospect of expanding the neonatal services in the West of Ireland and I'm looking forward to being part of the team leading on this field within the Saolta Group. I have a special interest in quality improvement projects and neonatal haemodynamics."
Dr Letshwiti graduated from NUI Galway in 2005 and went on to do medical and surgical internships in Roscommon and Galway respectively from 2005 to 2006. After his internship he started on his career in paediatrics and completed basic specialist training between 2006 and 2008. He then worked as a registrar in general paediatrics, neonatology and paediatric nephrology in Letterkenny University Hospital, the Coombe Women and Infants University Hospital and in Temple Street Children's University Hospital from 2008 to 2011.
From 2011 to 2016, Dr Letshwiti undertook Higher Specialist Training (HST) in Paediatrics through the Faculty of Paediatrics of the Royal College of Physicians of Ireland. As part of the HST, he completed the Neonatal –Perinatal Medicine Clinical Fellowship Program with the University of Toronto, Canada from 2014 to 2016. This involved a rotation in the Neonatal Intensive Care Units at Sunnybrook Health Sciences Centre, Mount Sinai and The Hospital for Sick Children in Toronto. During his first year of fellowship, Dr Letshwiti received the Audrey Tan-Dy Humanitarian Award for outstanding patient care.
In 2016 Dr Letshwiti returned to Ireland and worked as a Locum Consultant Neonatologist at the Rotunda Hospital in Dublin until 2017 before being appointed as a Consultant Paediatrician at Mayo University Hospital from April 2017 to January 2019.
Ms Chris Kane, General Manager, GUH said of the new appointment, "We are delighted to welcome Dr Letshwiti to Galway to join our Neonatology Service which cares for babies born here and will support the future development of this service to include caring for the very premature babies born throughout the Saolta Group of hospitals as we develop the necessary infrastructure and resources. We have a very busy maternity unit and the neonatologists are responsible for the care of all newborn babies who need extra support after birth. Around 15% of the babies born spend time in the neonatal unit for a variety of reasons."
The article above is specific to the following Saolta hospitals::
University Hospital Galway (UHG)